A note from Embrace co-founders Eric Futoran and Fredric Newberg on the state of mobile observability.
On Wednesday, April 28th, 2021, Bugsnag announced its acquisition by SmartBear. Bugsnag has been an early innovator in error monitoring. In many ways, we consider them a forefather, one that paved the way for error monitoring solutions and set the stage for the next evolution in monitoring — the observability stack.
Frank Roe, CEO of SmartBear, gave the following statement in a press release:
"SmartBear solutions cover the critical areas of design, development, test management and automation, and Bugsnag adds app stability in production environments to our full span of SDLC coverage."
In our opinion, Bugnsag will now become one tool of many in a DevOps toolkit. Their focus will shift to that of SmartBear's — integrating into a preexisting QA workflow. Its trajectory will echo that of Firebase, a conglomeration of acquisitions, including what was a developer's favorite, Crashlytics.
The evolution of the developer toolset brought on by Datadog (observability) and Snowflake (data infrastructure) has ended the era of error monitoring and ushered in the new era of observability. With Covid, mobile has overnight become the first priority of current and aspiring global 2000 companies. This carries with it a rising demand for data platforms that can power that growth.
With the new era of mobile observability, companies can make the most impactful decisions in the least amount of time. Event-based, error monitoring solutions focus exclusively on reporting single known points of failure. Observability encompasses the complete picture of every known and unknown error. With only an error-based solution, companies make the wrong decisions due to a lack of information.
After all, error monitoring is only one small piece of the mobile team's toolset required to deliver truly optimized mobile experiences and uncover the true drivers of revenue and churn.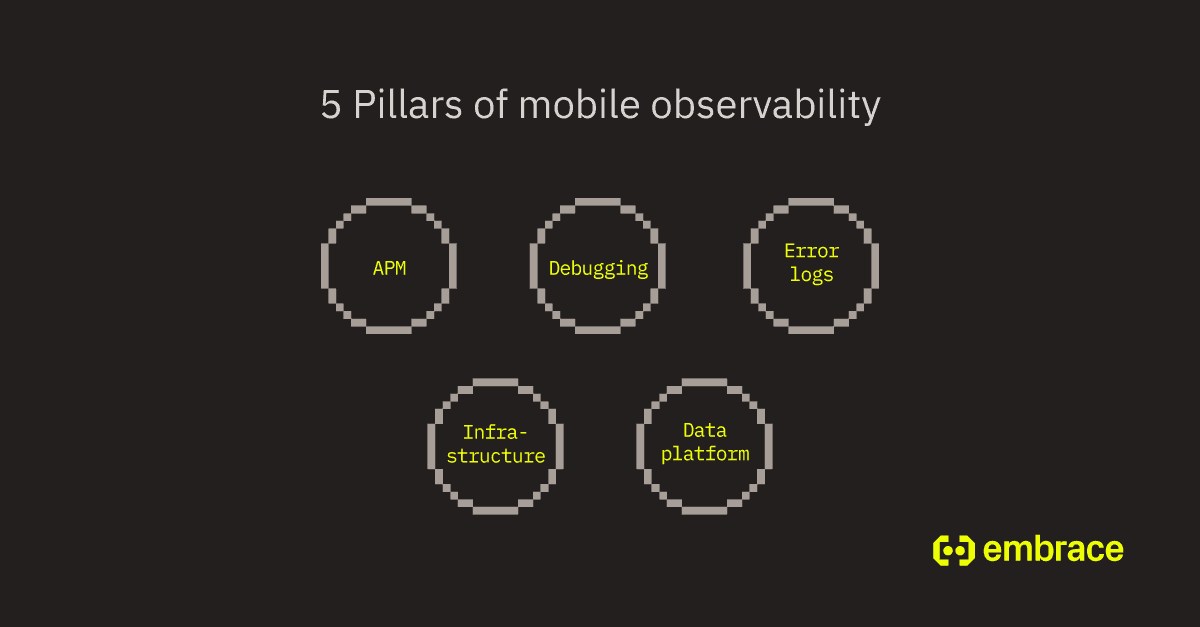 Since launching in 2016, Embrace has been unwavering in our dedication to building the best mobile observability platform. Mobile-first companies, like Wish, have solved problems that were otherwise unsolvable with traditional error monitoring solutions. For years, Wish struggled with their second-biggest crash, which affected 1% of all users. With access to high-fidelity session data, they discovered the root cause and instantly solved it.
Our offer to Bugsnag users
For Bugsnag customers who need to switch to a new solution, we'd like to make your decision easy: Use Embrace for free for the remainder of your contract. This will give you time to migrate your workflows without incurring extra cost. Please contact us to discuss further.
2021 is going to be a big year for Embrace. Our team is growing, and we're laser-focused on providing the best mobile observability platform to shift teams to high-velocity and deliver the ultimate, optimized mobile experiences. Come join us!
Eric Futoran
Fredric Newberg
Co-founders, Embrace
About Embrace
Our CEO Eric Futoran was a founder of unicorn Scopely, the #1 mobile game publisher, which recently raised a Series E at a valuation of $3.3b.
Embrace is the only

data driven toolset

that provides high-fidelity debugging and comprehensive session-level data required to unlock data science.
We are trusted by the world's top companies, including Wish, Goat, Home Depot, Cameo, and Hilton.
We have raised over $15m from YCombinator, Greycroft, Allianz and the founders of PagerDuty, Sendbird, Parse, Testflight, MoPub, and Lookout.
Deliver incredible mobile experiences with Embrace.
Get started today with 1 million free user sessions.
Get started free