Mobile is the most personal technology in our daily lives so it's not surprising that consumers have high expectations for more personalized, relevant, and frictionless app experiences. One of the best ways to power more personalized experiences is through push notifications. This key channel helps mobile teams re-engage, retain, and grow their user base by giving users the right experience at the right time.
But for most mobile teams, insight into the user experience after a push notification is received is often a black box. Teams lack detailed context into what may have impacted a user's push experience after a push is sent.
For example, let's say your users received a push notification. After receipt, the user's phone may die or a 3rd party network error occurs or, worse, a crash happens for dozens of users.
Engineering teams can't accurately replicate the issue because they can't see the push notification data leading up to the issue.
Product and Marketing can't attribute low campaign conversion with the issue if their teams have no visibility following the push notification send.
And existing push notification tooling doesn't give you additional context into the user experience after the push notification was sent. This core problem leaves mobile developers, product managers, and marketers flying blind on who (and how many) are experiencing problems following a push notification.
That's why we're excited to announce the general availability of our newest mobile signal, push notification data! This new signal helps mobile teams maximize the outcomes of their push notifications by ensuring users are being pushed into an amazing app experience, every single time.
View push data alongside comprehensive user session context
Teams can now auto-collect and view push notification receipt data as a mobile signal in all background and foreground user sessions. Teams can see if the user received the push notification (i.e., data and/or notification message receipt) as well as the metadata (i.e., type/category and time stamp). This push notification data can be viewed in the user session timeline alongside all Embrace user session data as shown below. With a real-time view into push notification detail alongside comprehensive user session context, teams can now feel confident in building and delivering better push campaigns and mobile experiences. As always, Embrace does not collect any PII data, so each push receipt is safe and privacy compliant.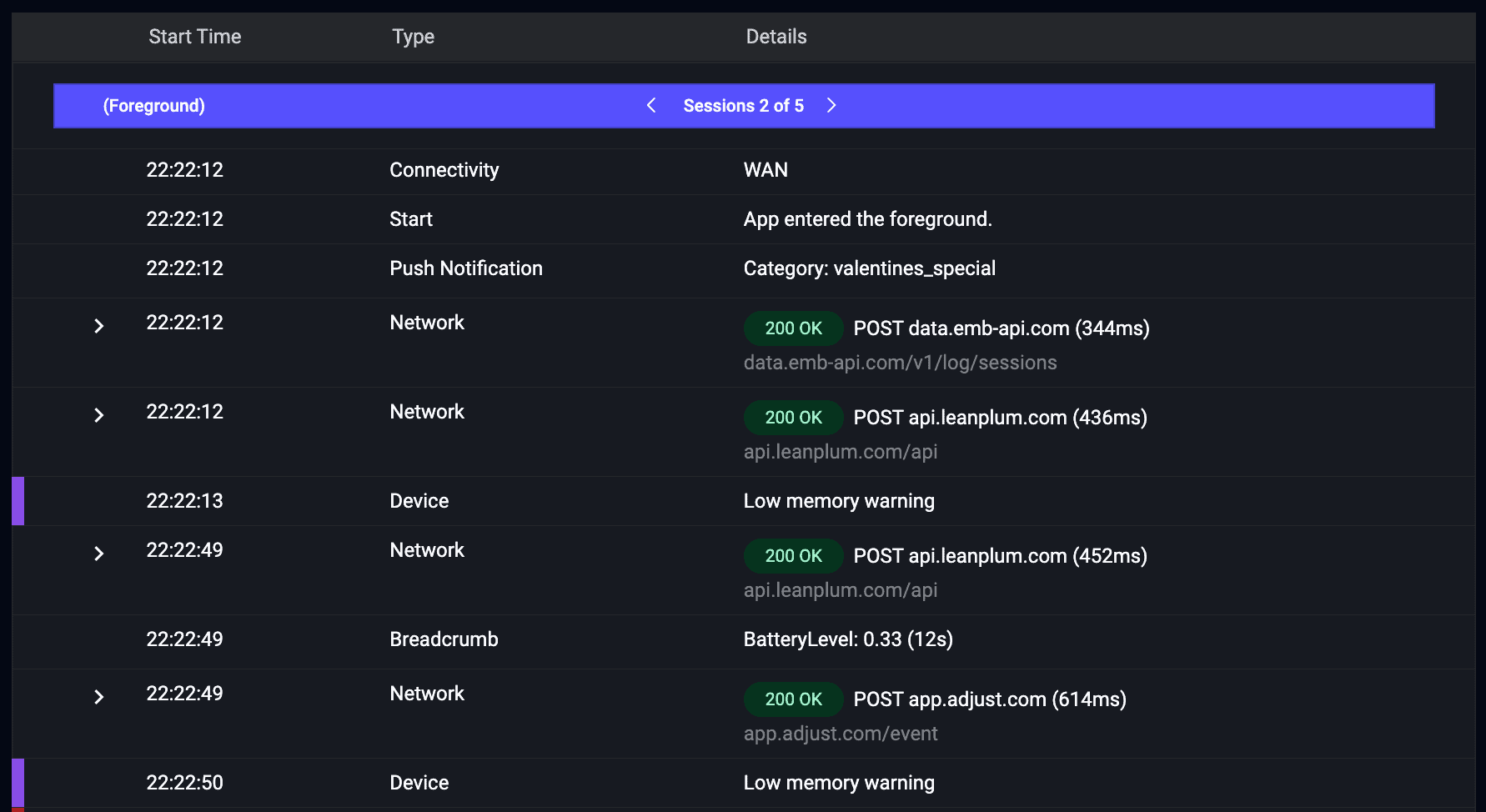 With push notification receipt data in each user session:
Mobile development teams can more accurately reproduce user sessions to improve troubleshooting and resolution times. When an issue or error occurs, it's helpful to know all of the context leading up to the issue (including if a push was received) to more accurately replicate and resolve the issue. This enables teams to ultimately make better development decisions so the issue never happens again.
Mobile product teams can better understand consumer experiences to improve growth and retention. Eliminate the blame game and know for sure if user churn or abandonment is correlated with a push campaign or with other factors (like bad network calls, crashes, or mobile vitals) during a push campaign.
Mobile marketing teams can get a true picture of factors impacting push engagement and conversion to improve future campaigns. While marketers can determine if a user received and clicked on a push notification, it is equally as important to know if a push message is supporting the end goal of the campaign, such as converting users to purchase, subscribe, or take other key actions within your app. With this additional insight, marketers can work more effectively with development and product teams to know when app issues and errors may be negatively impacting push campaigns.
Great user experiences are the foundation for successful mobile apps. However, mobile teams can't deliver the best user experiences without the right data. That's why at Embrace we continue to invest in collecting more mobile data signals and push data insights for our customers, with more to come!
Looking to see stronger retention and conversion with your push campaigns? Start auto-collecting your push data alongside 100% of your unsampled mobile telemetry data with your first 1 million user sessions completely free. Follow this link to try Embrace free or request a demo of Embrace.
If you're an Embrace customer and you would like to start auto-collecting push notification data, please follow these simple configuration instructions for iOS and for Android (Note: push notification capture is enabled by default for Android).
Deliver incredible mobile experiences with Embrace.
Get started today with 1 million free user sessions.
Get started free