Mobile apps are the unfair advantage that forward-thinking businesses are taking advantage of, and for good reason.
Not only do mobile apps make it easier for your customers to engage with your brand, but they also make it easier for businesses to collect valuable marketing data that can be used to provide personalized products and services.
We'll discuss specific ways mobile app data can help your business grow and what action steps you can take today to maximize the potential of your mobile app.
New experiences
Mobile apps enable businesses to add new experiences that surprise and delight customers in a way that enhances their interaction with your brand. For example, hotels can now offer keyless entry, making the check-in process seamless and enhancing in-hotel access.
Fintech companies also benefit from mobile apps, as customers can easily make payments, check their balances, and more on the go. In fact, mobile app adoption is becoming a necessity for fintech companies that want to stay relevant.
Another way mobile apps can delight customers with new experiences is by automating processes that require photo and video proof. For example, insurance companies can enable customers to file claims through the app, streamlining the entire process and enhancing the customer experience.
By offering elevated user experiences, mobile apps give brands an edge over their more traditional competition.
Enhance your accessibility
Mobile app purchases are becoming increasingly common, so you're leaving revenue on the table if you aren't investing in a mobile app.
In fact, in-app purchases rose 40% in quarter one 2021 on iOS and Google Play to a stunning $32 billion.
This data, combined with the fact that most customers are now accustomed to making one-click purchases through Amazon's easy-to-use app, means that it is increasingly critical for e-commerce brands to provide a robust mobile app.
In fact, Amazon's rapid growth is largely driven by its obsession with customer satisfaction. So if your brand creates more friction (making them find your website, enter login credentials, and enter a credit card), it's a no-brainer for customers to choose the competition over your brand.
In addition, a mobile app enables your brand to connect with users through push notifications, which is much less crowded than email and less intrusive than SMS. This is one of the easiest ways to maximize your current offers by boosting engagement and sales.
You'll also be able to use mobile app data to track the user's previous interactions and send more personalized messages and offers.
In contrast, brands that rely on a mobile-friendly version of their website hope that visitors sign up for their email list so that they can retarget customers through the overcrowded channel of email marketing.
Create a community for your customers
Customers respond to personalized messaging, and this trend is here to stay with the rise of the metaverse.
While many brands have tried to build communities through forums and email marketing, mobile apps are arguably the most effective community-building tools, as notifications can bring customers back and make the entire experience sticky.
For example, the Nike Running App allows mobile users to track their training progress, but the real benefit is the community within the app. This community is very sticky as it serves a dual purpose of connecting people with a like-minded community and tracking the user's goals.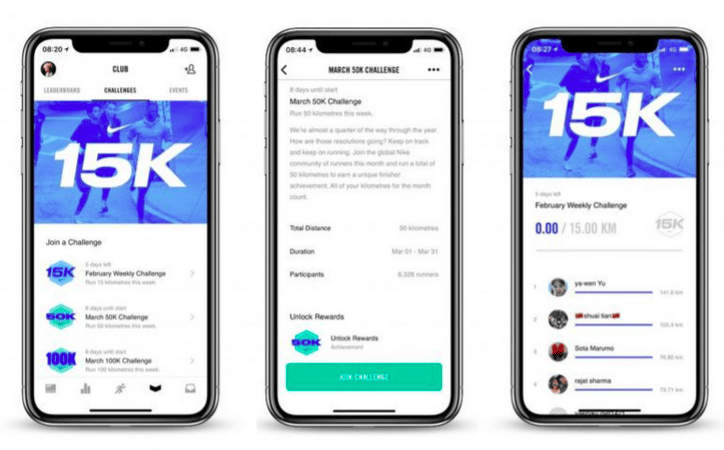 You can program the app to send notifications to bring people back to the group, and once they return, the community engagement will likely be all of the remarketing you need.
In addition, users are much more likely to share their progress with friends and family, dramatically increasing your brand's visibility organically. This way, your brand becomes part of their daily routine and a household name, which is the end goal of virtually every business.
As you can see, it isn't really an experience that can be replicated through email or an online forum. So think about how to make your app a VIP community for your core customer base (and expand your core customer base).
Build a stronger brand
An estimated 95% of website visitors never return.
When you think of all the marketing spend invested in acquiring a customer, there must be a better way to retain visitors. Sure, you can spend money on remarketing, but even so, the chances of winning a customer back are quite slim.
In contrast, mobile apps have a very high retention rate. In fact, only about 28% of mobile apps are uninstalled after 30 days.
Therefore, if you instead focus your marketing spend on increasing mobile app downloads, your retention rate will increase and make your marketing dollars more efficient.
In addition, a customer that sees your brand day after day on their mobile screen is much more likely to remember you.
As the saying goes, your brand has to be seen seven times to be remembered (though it's probably much higher now), so by having your app live inside their screen, you're getting those seven views without paying for any retargeting.
Connect with your customers fast and easily
How your customers obtain information is changing rapidly. For example, while it used to be normal for airline passengers to check-in at kiosks and check flight status online, mobile apps have changed the entire experience.
Instead, airline passengers now expect brands to make the check-in process seamless in their mobile app. In addition, if a flight is delayed, a gate is changed, or there is any other status update, it's easy to quickly notify the passenger.
Similarly, companies like DoorDash can quickly notify users exactly where their food is and when it will be arriving.
This form of communication is faster than email, yet not as intrusive as SMS messaging. Therefore, look at some of the most commonly asked questions sent from your customers.
Is there a way to send them automated updates to these questions through notifications in your mobile app? Doing so will make your brand instantly more attractive to customers with little additional effort on your part.
Improve customer loyalty
Businesses that offer mobile apps can improve customer loyalty by offering in-app loyalty programs.
Starbucks is a great example of a company that flourishes by offering a customer loyalty program. In fact, they had nearly 20 million members in their customer loyalty program in 2020, and nearly half of their revenue comes from this loyalty program.
Therefore, if you cut out this revenue, Starbucks wouldn't be nearly as successful as some of its competitors. In fact, the loyalty program is part of what helped Starbucks pull through the pandemic.
Rather than lamenting over the impact of the pandemic, Starbucks began doubling down on mobile ordering and targeted the customers with personalized offers based on their preferences
To give you some ideas on how you can structure a winning customer loyalty program through the app, here's how the Starbucks customer loyalty program was structured:
First, customers can earn stars with each purchase and then win free items after reaching a certain number of stars.
They also offer bonus stars if customers follow individualized multi-step offers during a certain time (this is great for new product launches).
Customers can win free birthday treats (which brings them back to the store and could cause further purchases).
Double star days encourage people to come into the store on a specific day.
Traditional loyalty programs through email and even paper aren't nearly as effective since people don't want to track coupons or scroll through their email to find a code you sent them. They just want to open the app and quickly redeem their offering.
Build a direct and personalized marketing channel
Mobile apps are perhaps one of the most valuable marketing channels available as they enable you to access a new level of personalization.
In addition, customers want brands to create a VIP experience rather than having to search high and low across a website.
For example, you can see where the user is located (perhaps to direct them to your nearest store) and their purchase history.
By enabling customers to open an app that offers a personalized experience, it's like walking into a retail store where the sales reps already know you and the styles you like.
This not only makes customers fall in love with your brand, but it also increases the chances of making a sale if the app shows them what they like.
Sephora is an excellent example of a brand that has nailed the personalized shopping experience. It enables customers to virtually try various make-up shades and replaces the need for a live sales rep.
Therefore, they can better recommend products to customers, increasing customer satisfaction and decreasing returns. In addition, Sephora can recommend products for future purchases based on a customer's previous shopping data and purchase history.
Think about how your current sales process works. If this item was sold live, what questions would a sales rep ask to ensure that the customer is matched with the right item? Now, how can you leverage technology to provide that experience in your app?
Once you have the answers to those questions, you can build a mobile app that automates the process for you.
Maximize marketing dollars and ad spend
If you've ever run a PPC campaign, you know how difficult it is to acquire customers, and it's even more difficult to retain them.
In fact, you'll probably end up running retargeting campaigns to people that visited your site previously to get them to come back.
Once they are on your site, the next goal is to get them into an email list, which is notorious for low engagement rates. In contrast, mobile apps can do all of the retargeting you need as your logo lives inside their phone, and access to your brand is just a tap away. In fact, mobile apps allow you to create a more personalized experience, which will maximize your ad spend as you increase your conversion rate.
In fact, data shows that mobile apps convert about 157% higher than mobile websites.
Therefore, consider using Facebook ads that direct the customer to download the app rather than just having them click through to your website. Hoping they sign up for your email list and then actually engage with your emails is unreliable and inefficient.
Utilize social media channels
Omnipresent brands will win, and enabling social media sharing within your mobile apps is an excellent catalyst to achieve this.
Most fitness apps are excellent examples of this.
For example, the fitness app, Fitbit, enables customers to share their workouts on social media, and their users love it.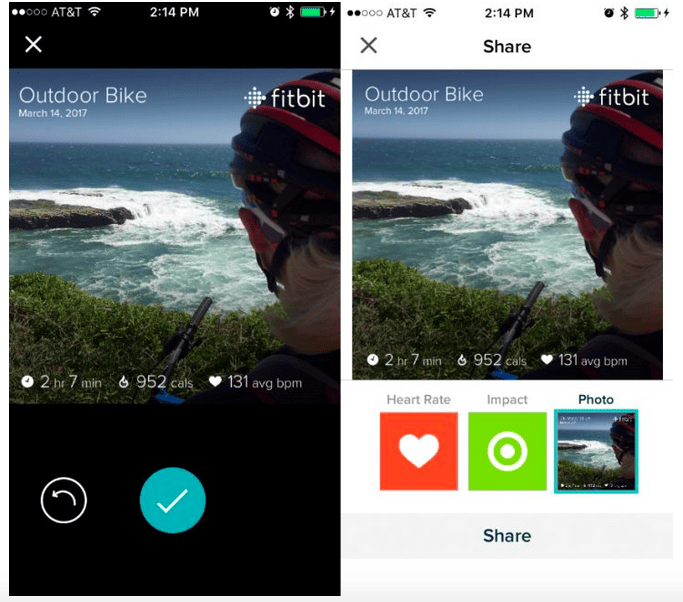 If you want to increase your social media reach, you can also offer rewards for sharing. This is often even more effective than hiring a social media influencer, as you can tap into the network of each of your users.
In addition, you can also bring your social media feed into the app, which will help you obtain more organic reach without paying for ads.
Have a competitive edge in your niche
By now, it's clear that mobile apps offer a unique advantage to simple websites and email lists.
Therefore, if your competitors are still relying on email marketing and organic website traffic, building a mobile app instantly gives you a competitive edge for all of the reasons discussed above (improved experiences, enhanced accessibility, stronger brand presence, improved loyalty, etc.).
Even if your competitors do have a mobile app, creating one for your company is even more essential as you'll fall behind without it.
For example, the travel industry, fitness, retail, and restaurants are all early adopters in the space. However, even if you are in an early adopting industry, there's still time to get in on the mobile trend.
In fact, just using the recommendations above (creating a customer loyalty program, adding new experiences, personalizing your marketing, etc.) will give you an edge over your competitor's mobile apps, as most brands haven't really maximized the potential of their mobile apps.
Level up your mobile app journey today
Mobile adoption is critical for companies that want to remain industry leaders.
Even if you do offer a mobile app, leveraging even just a few of these suggestions is an excellent way to get an edge over your competitors and maximize what mobile has to offer.
In addition, tracking your performance metrics to ensure that the experience is seamless is essential.
If you need help with this, Embrace is a data driven toolset to help mobile engineers build better experiences. Companies can leverage the data Embrace provides to make optimal business decisions across engineering, marketing, product, and data science. The result is happier users having better mobile experiences, which fuels engagement, retention, and revenue.
See what Embrace can do for your business by seeing it firsthand.
Deliver incredible mobile experiences with Embrace.
Get started today with 1 million free user sessions.
Get started free