The average person has about 40 apps on their mobile device, though about 89% of their time is often spent between just 18 apps.
So while users may occasionally access the other 22 apps, having so many different apps is inconvenient.
Therefore, most people would prefer a handful of consolidated apps that offer the capabilities of all the other 40 apps combined.
Fortunately, these consolidated apps now exist – they're called super apps.
While super apps are still relatively new in Europe and the Americas, it's likely that they will soon spread to the west, as a recent study showed that 67% of American consumers want at least two of their activities integrated into one place. An additional 11% said that they want a single app to manage their entire digital life.
So the big question for any mobile-first company is: should we be building a super app?
In this post, we'll discuss what a super app is, current super apps trends, and the key benefits of super apps for mobile-first companies.
What are super apps and how do they work?
A super app is a mobile app that essentially consolidates multiple different apps. The term was originally introduced in 2010 by Blackberry founder Mike Lazaridis, and the idea is that it provides a more seamless, efficient user experience.
For example, rather than having one app to call a ride, one app to pay for your meal, and another app to buy a movie ticket, a super app consolidates all of these functionalities.
So super apps are beneficial for the user because they can access all of their digital needs with one login and only enter payment information and other personal data once. Given that the user's data is only entered into a handful of apps (versus 40 plus different apps), the risk of a data breach is much lower.
Super apps also offer enticing opportunities to mobile companies, enabling them to expand into different verticals while maintaining the same customer base.
This way, the cost to acquire a customer remains the same (or even decreases), but the LTV of each customer can increase exponentially.
In fact, most super apps start with just one functionality (e.g., chat or payments) before expanding into parallel markets.
Right now, super apps are predominantly used in Asian countries where mobile is the primary form of digital communication and commerce (likely because these countries were slower to get landline internet and desktop computers). However, super apps are expected to expand into the United States, as an estimated 173 million Americans show interest in super apps.
Examples of successful super apps
To help you visualize how super apps work and how they help mobile companies attain unprecedented success, here are a few examples of the most successful super apps.
WeChat
WeChat is a Chinese-based super app that began as a simple instant messaging app in 2011. It has since expanded beyond instant messaging into a full-fledged super app that enables users to communicate (through messages, video calls, and even a social media-like story feature), pay for services, order food, hail rides, schedule appointments, and shop online.
Today, it is one of the largest apps in China and had 1.26 billion active users in the first quarter of 2022. Its revenue has also grown from $3.6 billion in 2015 to nearly $17.5 billion in 2021.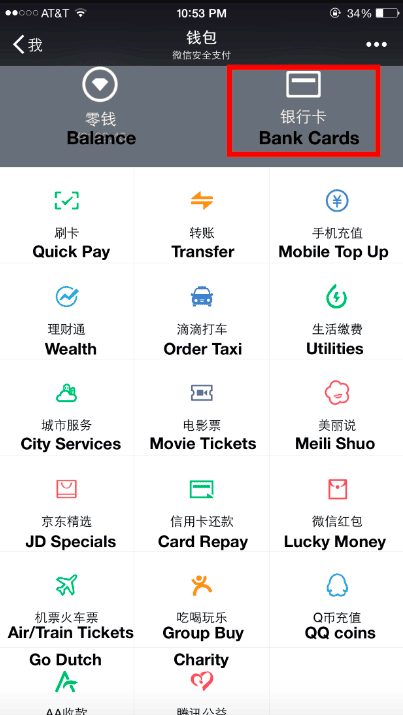 The app is also incredibly sticky, with the average user spending about 82 minutes per day inside the app (nearly three times more than Instagram's average of 29 minutes per day).
While other super apps have risen in popularity, WeChat is often credited as the first super app and still controls a significant portion of the Asian markets.
Grab
Grab began in 2012 as a ride hailing app in Malaysia (similar to Uber). After some initial success as a ride hailing app, it began offering bike services (GrabBike) in 2014 and then expanded into logistics delivery in 2015 and payments in 2016.
Today it dominates Southeast Asia by offering ride-hailing, payments, food delivery, and other services.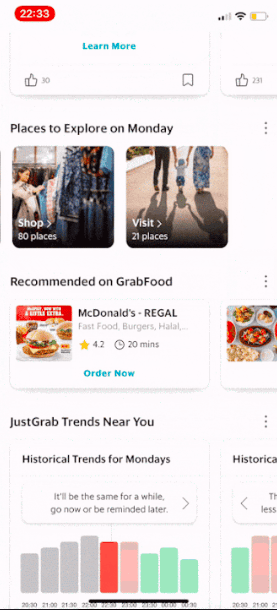 Grab grew from $469 million in 2020 to $675 million in 2021 (a stunning 44% increase in revenue).
By the end of 2021, Grab had about 27.7 million monthly transacting users, with the primary user base residing in Singapore and Indonesia.
Today, it is Southeast Asia's first decacorn and continues to grow in popularity.
AliPay
AliPay is owned by the Chinese e-commerce company Alibaba and was originally a payment app for their e-commerce customers.
The idea was that the payment app could protect Alibaba consumers from fraudulent merchants.
However, it soon expanded by offering a public utility payment service that enabled users to pay their water, electricity, and telephone bills from their phones.
As more and more people began to use the app, AliPay transformed into a  super app that supports more than just payments and has over 120,000 lite apps inside the platform.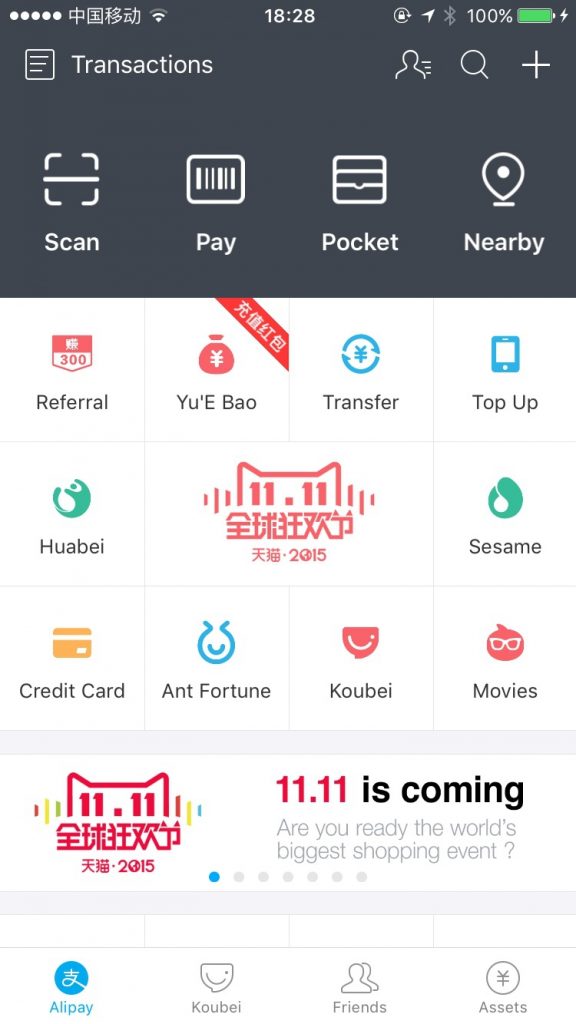 By the end of 2021, about 90% of Chinese people surveyed claimed to use Alipay.
Gojek
Gojek is an Indonesian company that began as a call center in 2010 that connected customers with delivery and ride-hailing services. In 2015, they released the first version of their mobile app and offered four services: GoRide, GoSend, GoShop, and GoFood.
After the success of these first four services, Gojek set its sights on scaling into a super app.
Today it offers services across multiple industries, from household and business necessities to food deliveries and payments.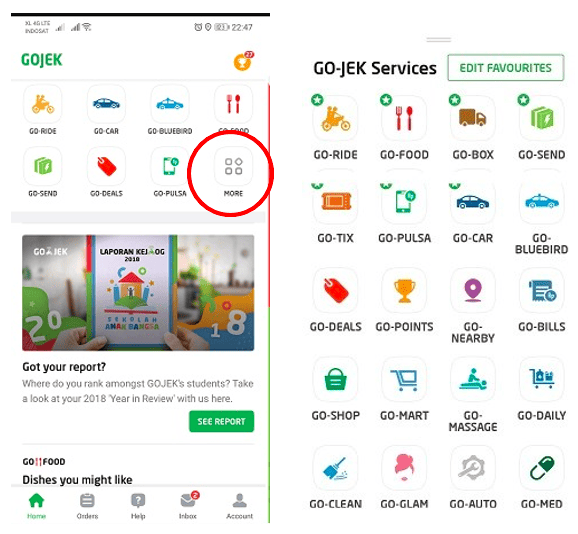 In 2020, Gojeck processed over $10 billion annualized gross transaction value and is now expanding into other geographies like Singapore, Vietnam, and Thailand.
Benefits of super apps to businesses
A well-executed super app is a ticket to market domination for businesses. Here are a few of the specific benefits that super apps offer businesses.
Improves customer loyalty and stickiness
Before super apps, customers only returned to a certain app when using that app's specific service.
For example, if a consumer only hails a ride a couple of times per month, they probably won't be in your app that much and might even delete it from their phone. After all, it isn't a service they often use, which means the consumer also doesn't have a strong connection with your brand.
However, if the consumer uses your app daily for online shopping and ordering food, it's unlikely they will uninstall it. So if you then launch a ride hailing offer in the app, they will probably use it when they need to hail a ride because they already have the app installed on their phone and know and like your brand.
So, in short, customer loyalty will increase, and users will be more likely to try your other services, which raises the LTV of each consumer.
Collects more user data
Super apps also collect valuable consumer data, making it easier to understand what kinds of products and services your customers use. With this information, you can personalize cross-promotion offers, increasing conversions and, therefore, the lifetime value of each customer.
In addition, your marketing team can use the data to improve messaging, uncover the best marketing channels, and optimize campaigns.
Attracts a larger target market
Here is the total addressable market for ride sharing, food delivery, and digital wallets: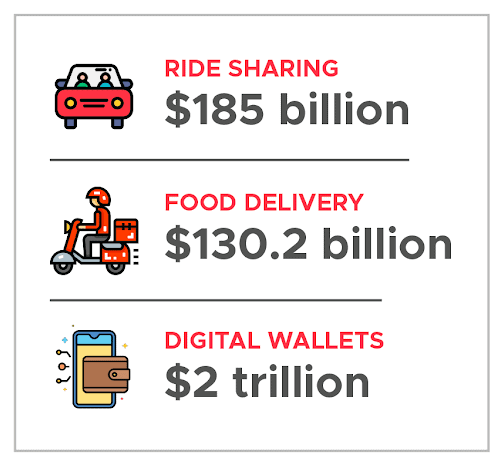 While any one of those markets offers great potential, imagine building a company that has a total addressable market of all three combined.
While niching down used to be the recommended scaling method, super apps provide a unique loophole because an individual using one of those services will likely use the other two services – within minutes.
Therefore, consumers don't want to have to open three different apps and enter their payment information three times. So having a single consolidated app makes sense – and you don't have to acquire new customers.
In addition, you already have an advantage over other brands because you're offering a consolidated solution, which removes friction in the user experience.
Exponentially scale revenue while decreasing CAC
The main value of super apps is that they scale the value of a user rather than the number of users. This is possible because super apps are essentially a bundle of multiple apps that the same user would access in one day.
This way, rather than marketing to more people, you're just showing users that already like and trust your brand that you now offer solutions to other needs they already have.
As they're already loyal users (rather than cold prospects), your conversion rates for parallel products will be pretty high.
So, the cost to acquire a customer will decrease while you'll be able to scale revenue exponentially.
How are super apps valuable to consumers?
It's clear that super apps can help your business scale revenue while reducing marketing costs. However, super apps are also valuable to consumers.
Access everything they need from one app
Convenience is a major reason why brands like Amazon succeed. In fact, a survey of Americans showed that 70% are willing to spend more money for convenient solutions.
Fortunately, the main benefit of super apps is that they provide a more convenient user experience.
Without a super app, most users have several screens on their phones filled with various apps for different needs.
With multiple apps, the user's battery will drain faster, use more data, and the user will constantly be bombarded with app updates.
More apps also means more logins and repeatedly entering the same data (such as payment information).
By using a super app, consumers can log into a single app and access everything they need without re-entering any information.
Data is more secure with a single sign on
In addition to the convenience of a single login, super apps also reduce the risk of compromised user data.
This is because, for every additional app that a user enters personal data, it's one more opportunity for hackers to access their information.
So if a consumer enters personal data into 40 different apps, they are 39 times more likely to have their data compromised than a consumer using a single super app.
They receive more relevant offers
If a consumer frequently uses your super app for food delivery, they would probably appreciate a special offer for food delivery much more so than an offer for something they don't use as frequently (say, a discount to a movie theater).
Fortunately, super apps make it easy to capture relevant customer information so that you can serve them offers more relevant to their interests.
In addition, GDPR is not a concern because the data stays in the same app.
What challenges do super apps face?
Given that the existing super apps are so successful, why doesn't everyone have a super app? Here are a few challenges that companies building super apps face.
Complex team structure
Building a super app requires a massive team as you essentially have multiple different products for a single solution.
To ensure everyone stays aligned, the company will have to make significant investments in operational staff and find executives with experience leading teams of that scale.
Maintaining a quality user experience
The key benefit of super apps is that they are convenient for users.
However, if your app's user experience declines, you'll not only fail to earn new customers, but you will also risk losing your existing customers.
So whether you're building a new solution or partnering with existing companies to expand your super app, the user experience must remain seamless.
Expensive
The whole point of a super app is that your company has the opportunity to expand into new industries (and, therefore, grow by capturing a new market).
Though to expand into parallel markets, you must either build or buy your way into those new industries.
Unfortunately, building new offerings is expensive as it requires extensive engineering resources (you're essentially building a new product or even a new business).
While you can go the M&A route (buying existing apps), this also requires significant capital up front, and then you'll have to integrate their team with yours.
Often, the most effective way to grow a super app is to partner with other companies, though you'll have to carefully consider the companies you want to partner with to ensure they provide the user experience you envision.
Will we see super apps in the west?
Super apps are still relatively unheard of in the United States, though there are signs that the west will see super apps in the near future.
For example, social media apps like Snapchat and TikTok are beginning to resemble super apps by offering more features like shopping.
However, that doesn't mean that super apps will immediately become a hit in the west.
For example, Grab was introduced in New York in 2020, and it didn't go well. The company's shares plunged an astounding 21% on the first day of trading in New York.
In addition, many Americans are wary of large companies dominating a single industry due to privacy concerns. For example, a group of state attorney generals recently sued Google over antitrust issues with Play Store, marking the fourth antitrust lawsuit against Google in 12 months.
So while super apps offer exciting opportunities for forward-thinking mobile companies, it's unclear whether or not the western market is ready to embrace them.
Can you build a super app?
Building a super app is no easy feat, though the companies mentioned above (Gojek, WeChat, Alipay, and others) have proved it's not impossible.
In fact, many of these companies managed to build super apps within 5-10 years.
However, all of these companies were already major players in one particular vertical, making it easy to simply offer their existing customers a related service.
So the key to building a super app seems to be establishing a strong brand in one vertical, delivering an amazing user experience, and then maintaining that user experience as the company scales.
Right now, most super apps are in the consumer market, so there might also be opportunities in the B2B space for super apps.
Are you building a super app?
If you're building a super app and want to deliver an unparalleled user experience, you need a mobile data platform that provides detailed visibility into how your users experience your app.
Here at Embrace we're dedicated to providing mobile teams with the tools they need to fully understand the user experience and uncover the biggest opportunities for improvement.
To see for yourself how Embrace can help you maintain quality standards while scaling a super app, schedule a demo today.
Deliver incredible mobile experiences with Embrace.
Get started today with 1 million free user sessions.
Get started free