The Sentry alternative
that surfaces more crashes,
ANRs, and issues, out of the box
Embrace captures 100% of user sessions, giving you an unsampled view of your mobile data. With features like User Session Insights, intelligent ANR reporting, and advanced error monitoring, more engineers rely on Embrace for building better mobile experiences.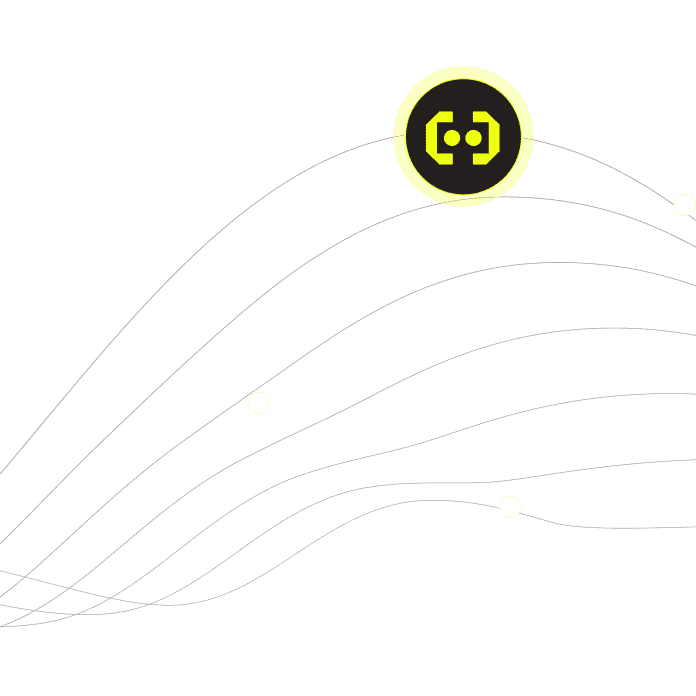 Sentry vs Embrace
Only Embrace gives you access to the mobile insights you need to solve issues that directly impact users and revenue.
| | | |
| --- | --- | --- |
| | | |
| | | |
| | | |
| | | |
| Advanced ANR detection and analysis | | |
| Background data collection | | |
| Advanced crash analysis and custom grouping | | |
| User Timeline to provide full play-by-play of each session | | |
| Reproduce 100% of user sessions | | |
| Advanced network monitoring and analysis | | |
| Forward mobile data to any OTLP-compatible backend solution | | |
| Automated instrumentation | | |
| All sessions (no sampling) | | |
Trusted by top mobile companies
Embrace surfaces the
most issues and crashes
Embrace tracks the entirety of each and every user session to provide engineers with more context and clarity into their mobile app performance and experiences.
Advanced mobile error tracking and resolution
Automatically identify issues other tools miss or under report.
Key user flow optimization
Stop users from abandoning your app due to slow or failing startups, checkouts, and purchases.
Full visibility into networking errors
Easily identify whether the issue is caused by poor connectivity, too many calls leading to a timeout, or a broken endpoint.
Get a play-by-play of any user experience and get to the root cause of issues fasters
Embrace captures 100% of user sessions, making issue identification and resolution as easy as going to the session replay.
Replicate every experience with real production-level data and stop cobbling together logs, analytics and crash reports.
Trace the entire user journey across sessions with realtime, interactive visualizations.
Prioritize based on the impact of an issue across your user base without ever leaving the user session details.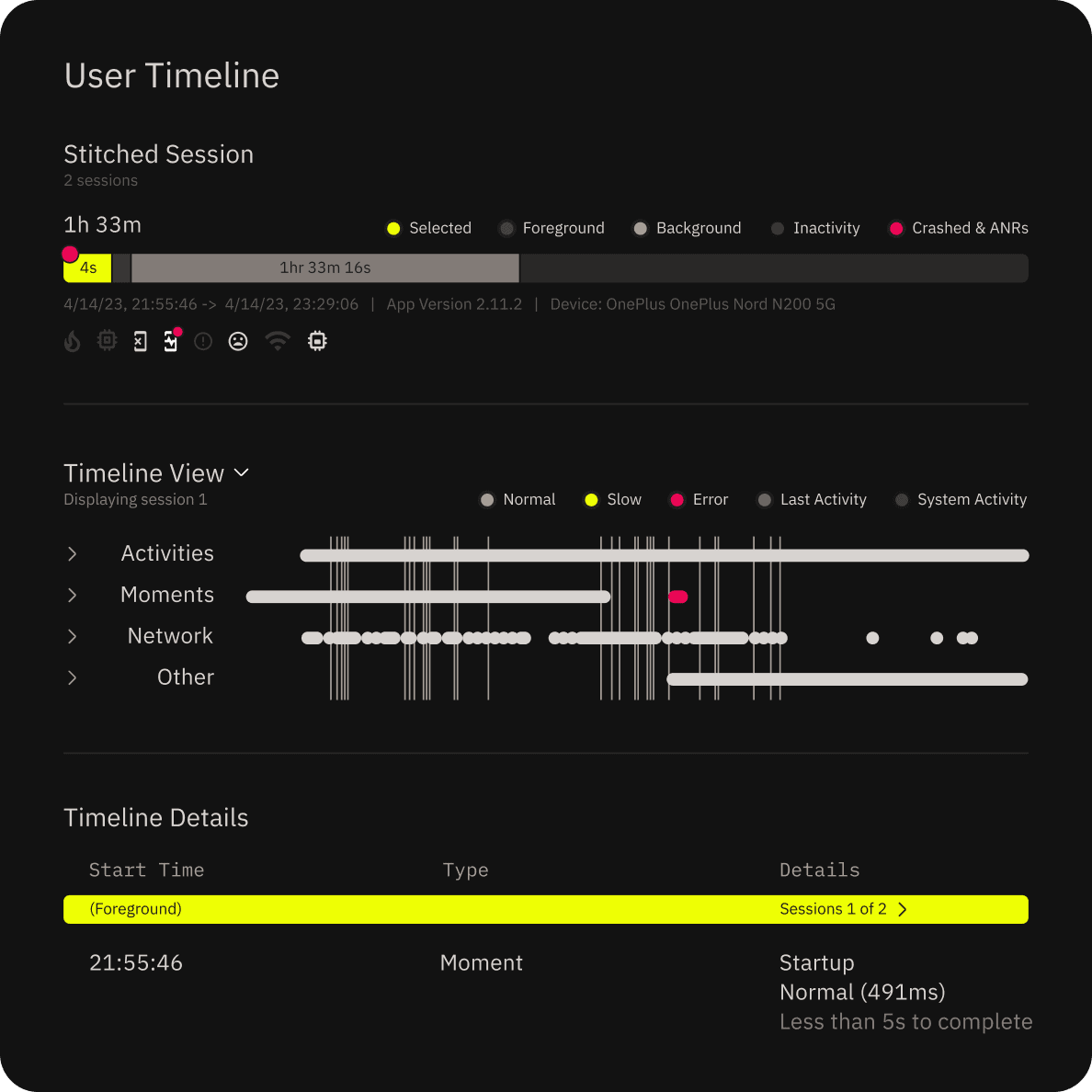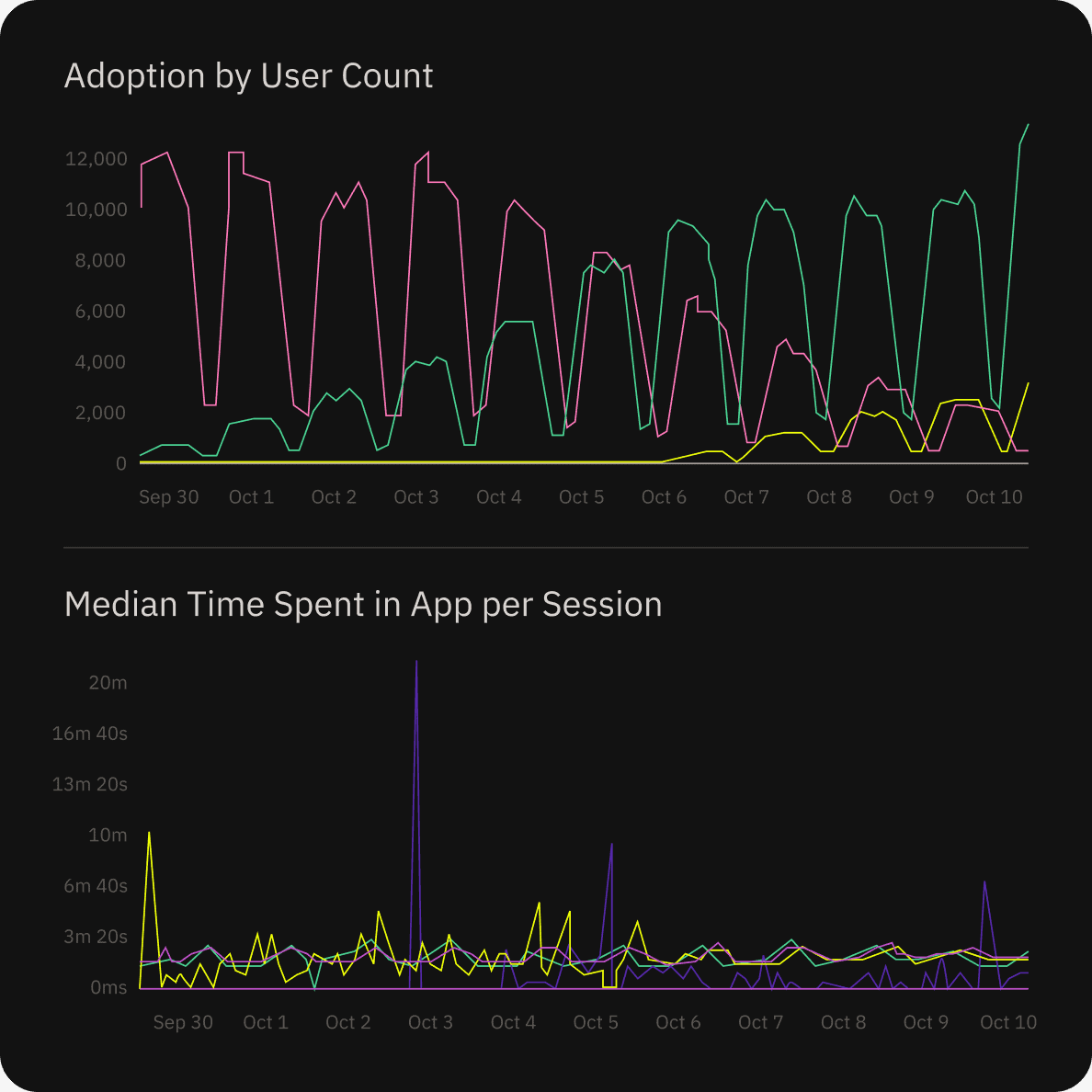 Embrace is built for optimizing mobile experiences
A single source of truth for you mobile app, designed to scale with your team and org.
Compare releases with any desired metric to spot improvements or regressions.
Monitor feature health with real-time dashboards.
Triage user complaints by first looking up users and accessing their sessions.
Check the health of the network when testing features before going to engineering.
Identify, prioritize, and solve any user-impacting issue.

Embrace is how you make mobile
mission-critical.
Understand what people need to fall in love with the things you build.
Go bigger, move faster, and don't break things. With Embrace.