Android developers from around the world swarmed the Business Centre in London last week for droidcon London, the second largest droidcon event of the year. With attendance topping over 1,200, there were plenty of opportunities to network, learn about new technologies, and collect new fun swag. In this post, we'll cover not only our recap of this awesome conference, but also some fun takeaways from our partners who also were in attendance, Bitrise and Guardsquare.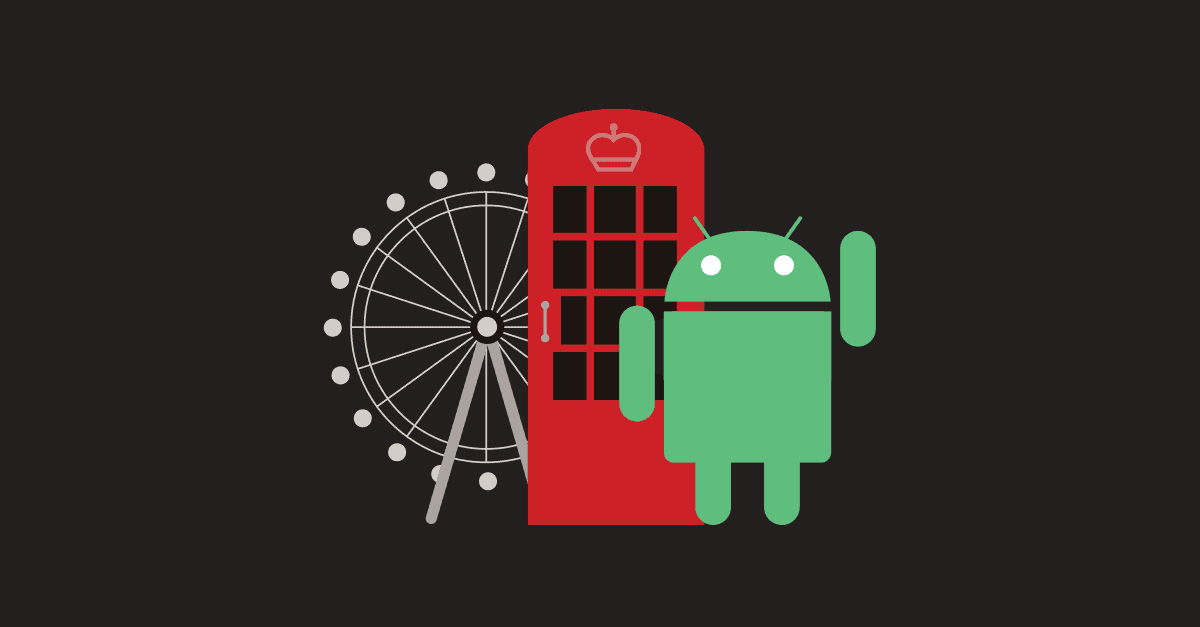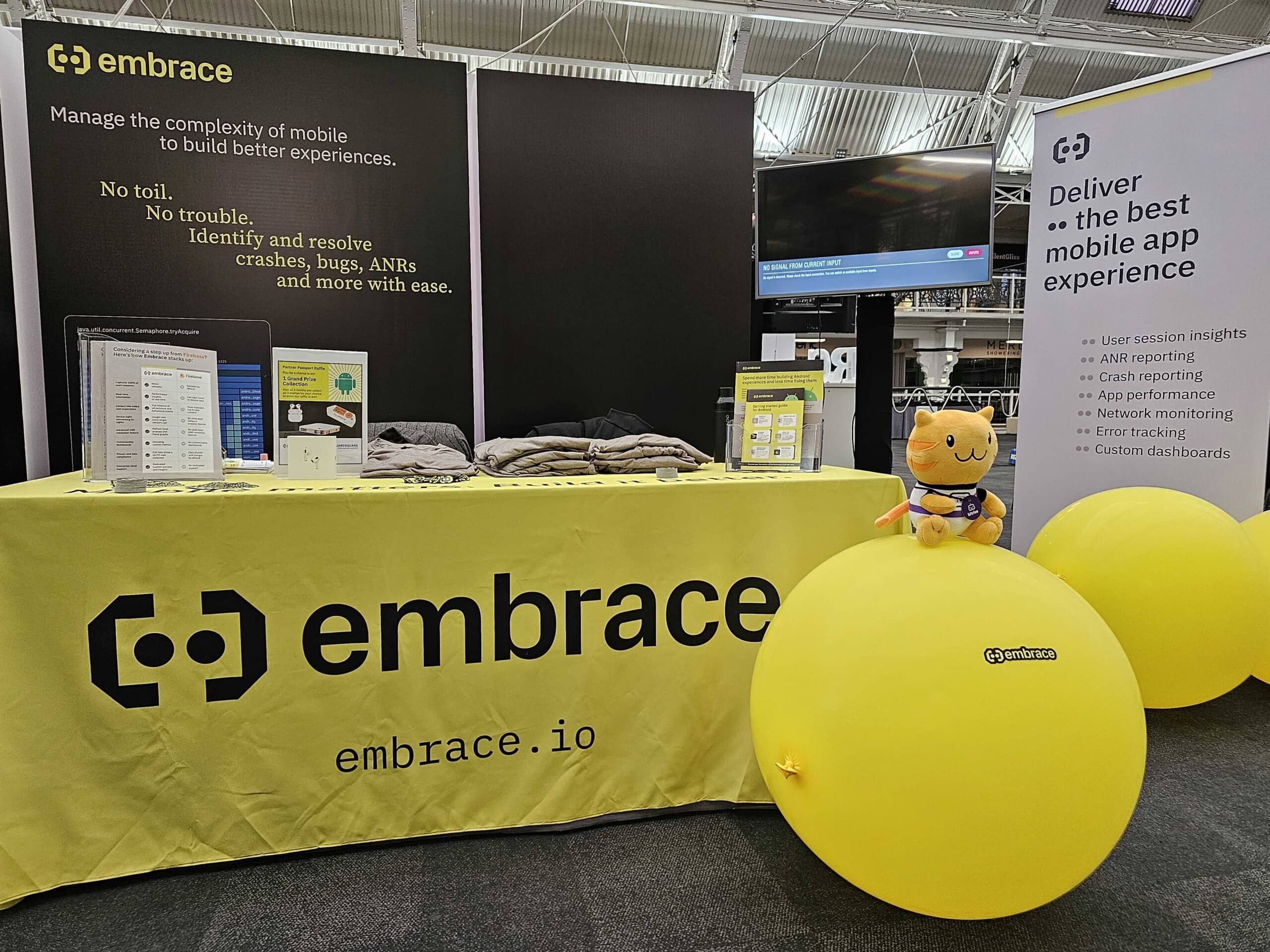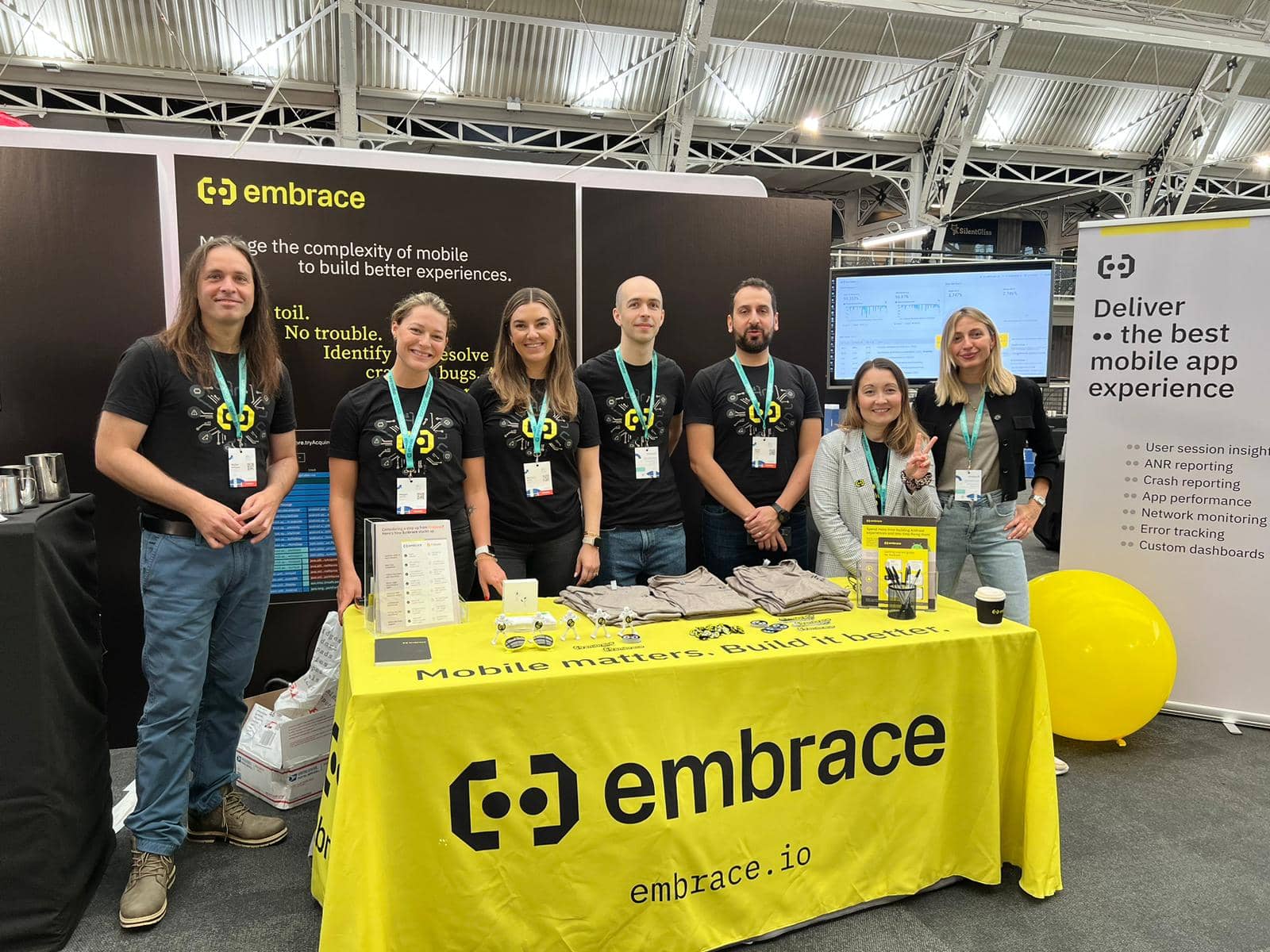 The Embrace booth experience
Embrace joined forces with our partners, Bitrise and Guardsquare, to promote integrations that make engineers' lives easier. We celebrated our partnerships with a passport raffle contest at droidcon for one lucky winner to win a grand prize (portable projector, Airpods, and a hacker tool). It was a hit on the second day and drew the biggest crowd to see who would be the big winner. Congratulations to Remi Boulier, an Android Developer from Costa Coffee!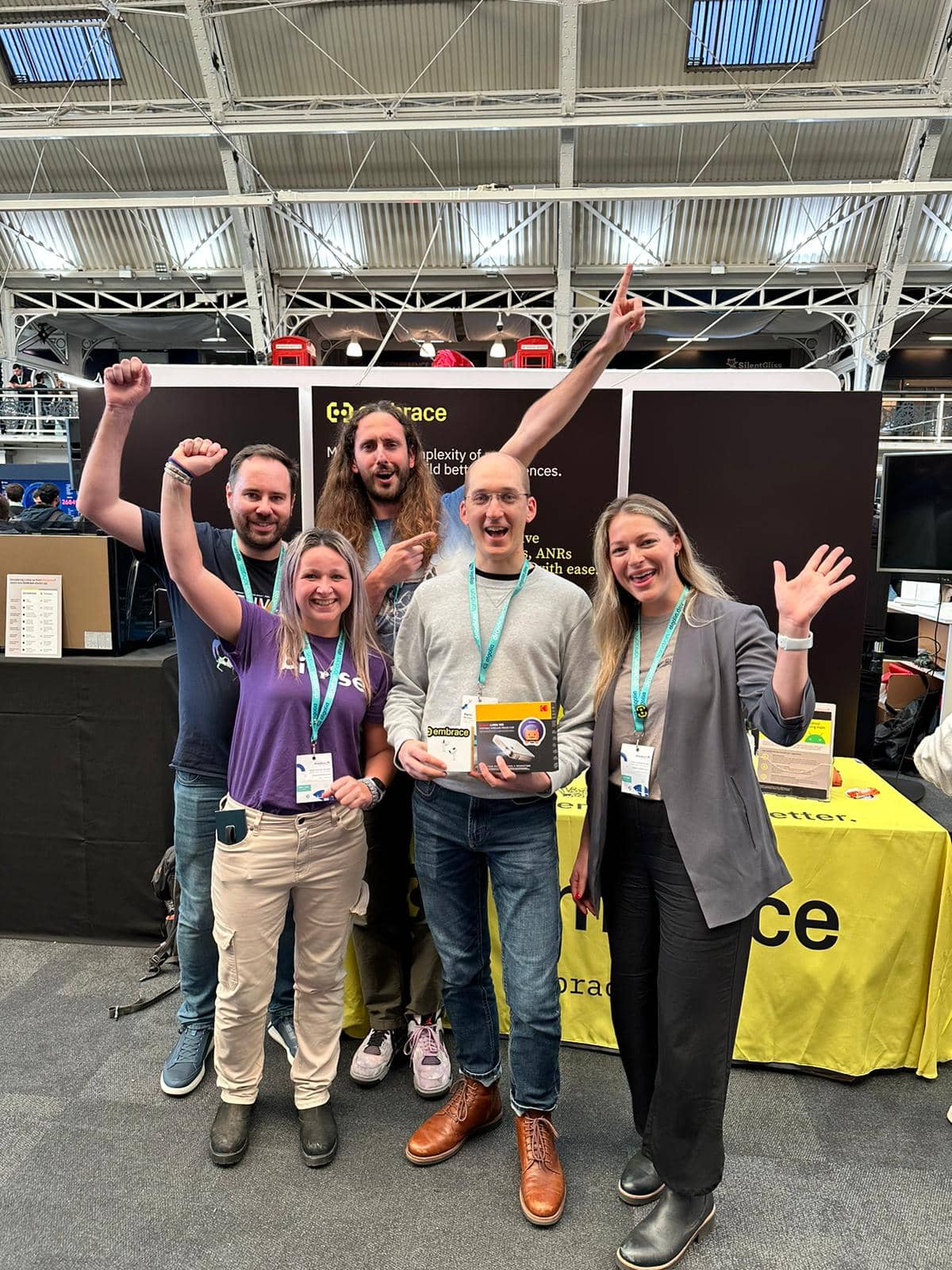 We continued the coffee cart tradition from NYC since it was such a hit. Developers love coffee and so do we! Bitrise paired us with some fresh popped popcorn next door. Surprisingly, a lot of Londoners love their hot chocolate as well! Our swag consisted of fresh new t-shirts, dancing robots, pins, and of course the famous Em-Bot stickers.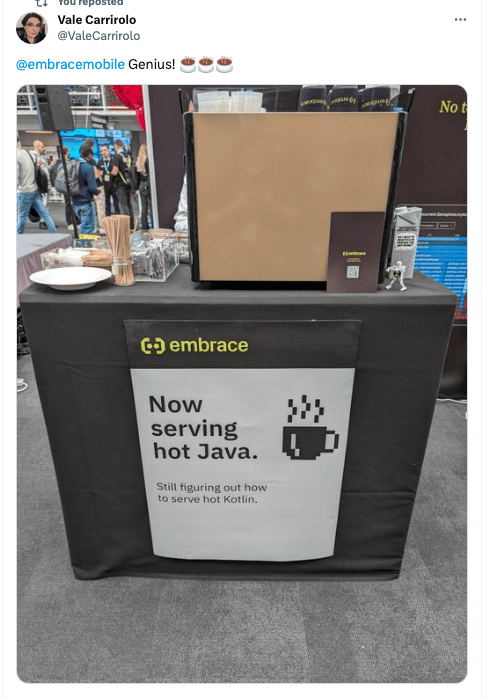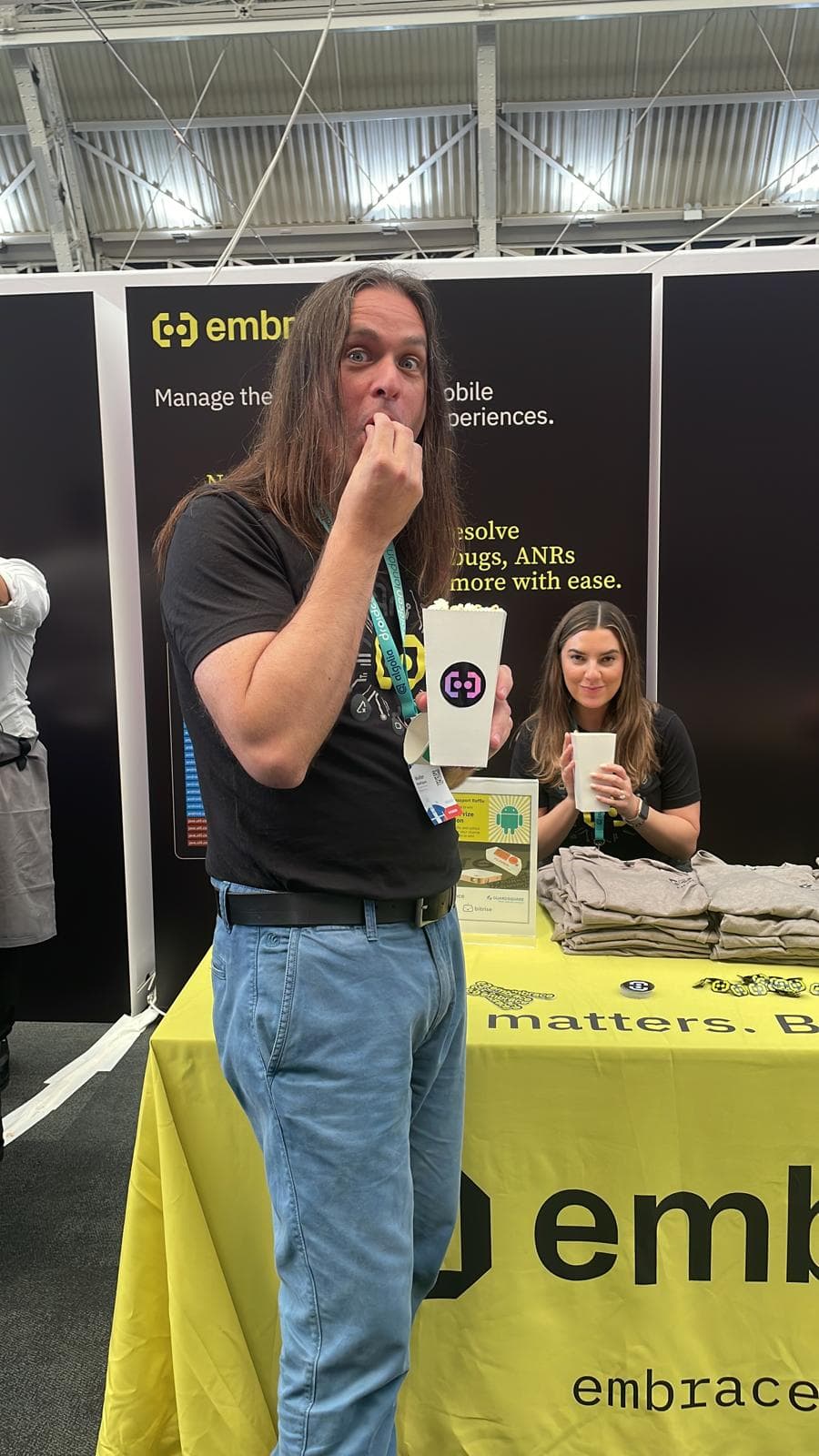 Meeting developers IRL
I've been to several droidcons and many more tech conferences in my career – droidcon is special. The community here is simply outstanding. Everyone loves to interact on a deeper level. We conducted many impromptu demos, and engineers discussed their problems with us, hoping we had solutions to help make their lives easier – which we did! The main topics of conversation at the Embrace booth were around how we differ from Crashlytics/Firebase and how we solve for ANRs. Thank you for the awesome conversations!
At the end of the second day, not only did we meet potential customers, but we made friends. Check out some quotes from our new friends, Gary and Vadym!  
"Droidcon is 2 days of fun, learning from industry experts whilst at the same time exploring cutting edge software solutions that can further efficiency to your development process!" 
— Gary Doolin (aka Gary #1), Senior Android Engineer, Transact Campus 
"Droidcon for the last few years has transformed into a more friendly general-mobile community where not only Android but also Flutter developers are welcomed. Huge kudos to Greg and Simon for the inclusion. We'd like to see a wider presence of Flutter next year in more locations. It was my first speaker experience and I felt really supported, even though stressed. I got a lot of positive and constructive feedback, thank you!"
— Vadym Pinchuk – Labrys Senior Software Engineer
Walter Rodriguez, Embrace Solutions Engineer, was able to attend Developer Productivity On a Budget presented by two M&S engineers, Adam Ahmend and Jordan Terry. Both work on Platform teams at different companies supporting many distributed teams that contribute to their Android codebases. They had to build a lot of tooling in-house to accomplish similar functionality to what Embrace offers out of the box, like crash reporting, parsing stack-traces, and figuring out who the code owner is. Our new feature, Mobile Crash Owners, would be perfect for them.
Bitrise
The Bitrise team along with Bitbot and PurrRequest (Our much loved mascots), eagerly arrived to the event with strong expectations and we certainly were not disappointed.
We spent most of our time engaging with the event attendees and learning about the challenges they currently face around their mobile CI/CD strategy, with the common messaging being that mobile CI/CD is hard and in most cases a big time suck in manual, laborious processes.
On the other side of that, we got the chance to meet with a lot of our customers who would regale us with stories of how we have transformed their approach to mobile CI/CD and giving them the time back they need to work on innovating and building first class apps……who doesn't want to hear that? 
So that's exactly what we told those that visited us that are not a Bitrise customer (yet!)…. Stop dealing with physical hardware, updating build environments and the endless troubleshooting along with manual updates. Embrace Bitrise's cloud-based CI, built specifically for app developers, designed to liberate engineers from the tedious tasks of CI/CD setup and maintenance, as well as so much more and bring to your customers a world class app experience.
Congratulations to Remi Boulier on his raffle win and we look forward to many others benefiting from the Bitrise, Embrace & Guardsquare partnership.
Don't forget to stop by and check out Bitrise and experience yourself how we could help you or your business with their mobile CI/CD strategy. Just head to bitrise.io now!
A big thanks to Katie Beckham from Bitrise for this writeup!
Guardsquare
We had a great time at droidcon London 2023 connecting with the developer community, spending time with our partners Embrace and Bitrise, sharing our knowledge about the security landscape as it relates to mobile apps and SDKs, and seeing first-hand how Android developers are always innovating to make testing, performance, and development processes even better. 
One takeaway we had from our conversations was that many developers have a blind spot when it comes to security and the need to protect their mobile apps. One of our engineers, James Hamilton, delivered a presentation, "Think Outside the Server" at the event with the goal of sharing informative, educational content on mobile app security with developers. Using real-world examples, he discussed why apps need a robust security architecture and why mobile app optimizers, such as R8/ProGuard, do not provide meaningful obfuscation and security. 
In his session, James highlighted that attacks happen at runtime, not just statically, and app developers' reputations can be impacted when their apps are hacked due to security issues. Attendees learned about the beneficial trade-off between a one-time app protection setup and automatic diversified protections on every build (which effectively reset the clock for attackers on every release).
Following James' session, visitors stopped by our booth where they had the opportunity to scan their mobile apps using AppSweep, Guardsquare's free mobile app security testing tool, and learn more about mobile application security as our engineers and product manager explained the benefits of using DexGuard to protect Android apps.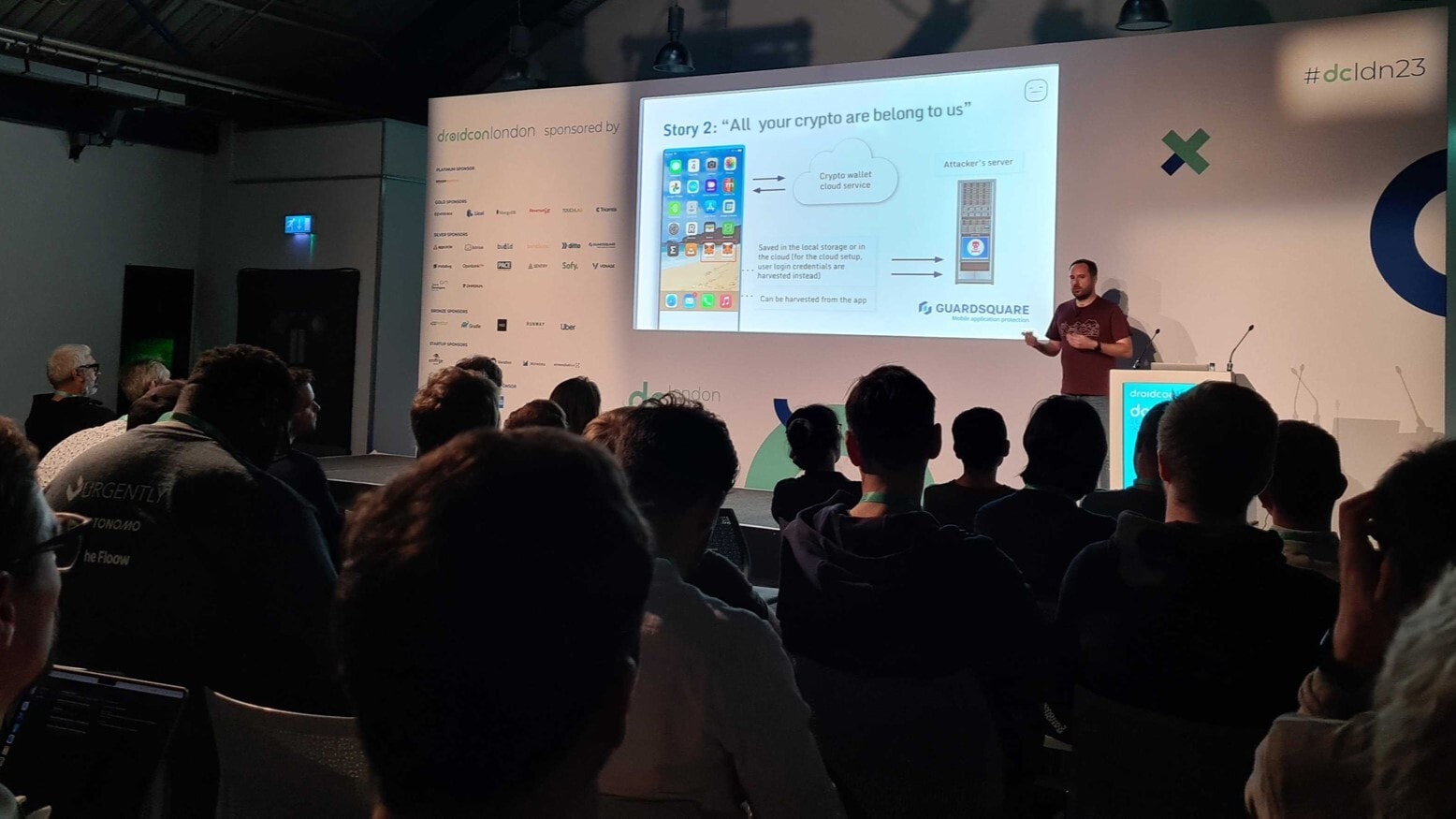 Where to find Embrace next
Check us out in the droidcon Academy to deep dive into solving ANRs with Jamie Lynch. He looks at some common causes of ANRs from real production apps. Or see us in person at the Game Developer Conference in San Francisco, March 2024. Come by and grab a cup of coffee!
About our partner integrations
The Embrace integration enables Bitrise users to automatically add their symbols file to Embrace during the CI/CD process. Our integration with Guardsquare enables engineers using DexGuard to get desymbolicated stack traces in Embrace.
Deliver incredible mobile experiences with Embrace.
Get started today with 1 million free user sessions.
Get started free