droidcon New York 2023 brought together a blend of Android enthusiasts, developers, and our Embrace team for a great two-day event. With a range of speakers and a bustling exhibition floor, the conference was simply incredible.
In this post, we'll cover our experience at the conference, including our awesome booth, key takeaways from the talks we saw, and a breakdown of our CTO Fredric Newberg's talk about ANRs.
The Embrace experience at our booth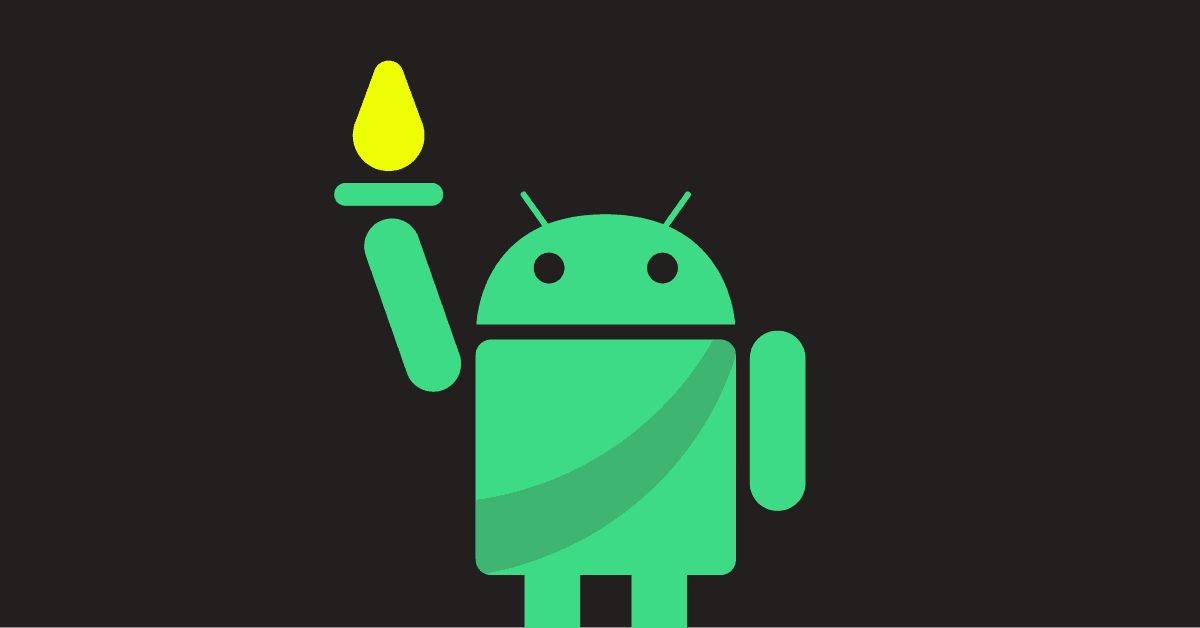 This year, droidcon New York had a great turnout. Over the 2 day event, over 900 Android developers came out, and there were over 80 tech talks across 5 tracks. Our team was excited to meet with Android developers, hear more about their needs first-hand, and introduce them to our product.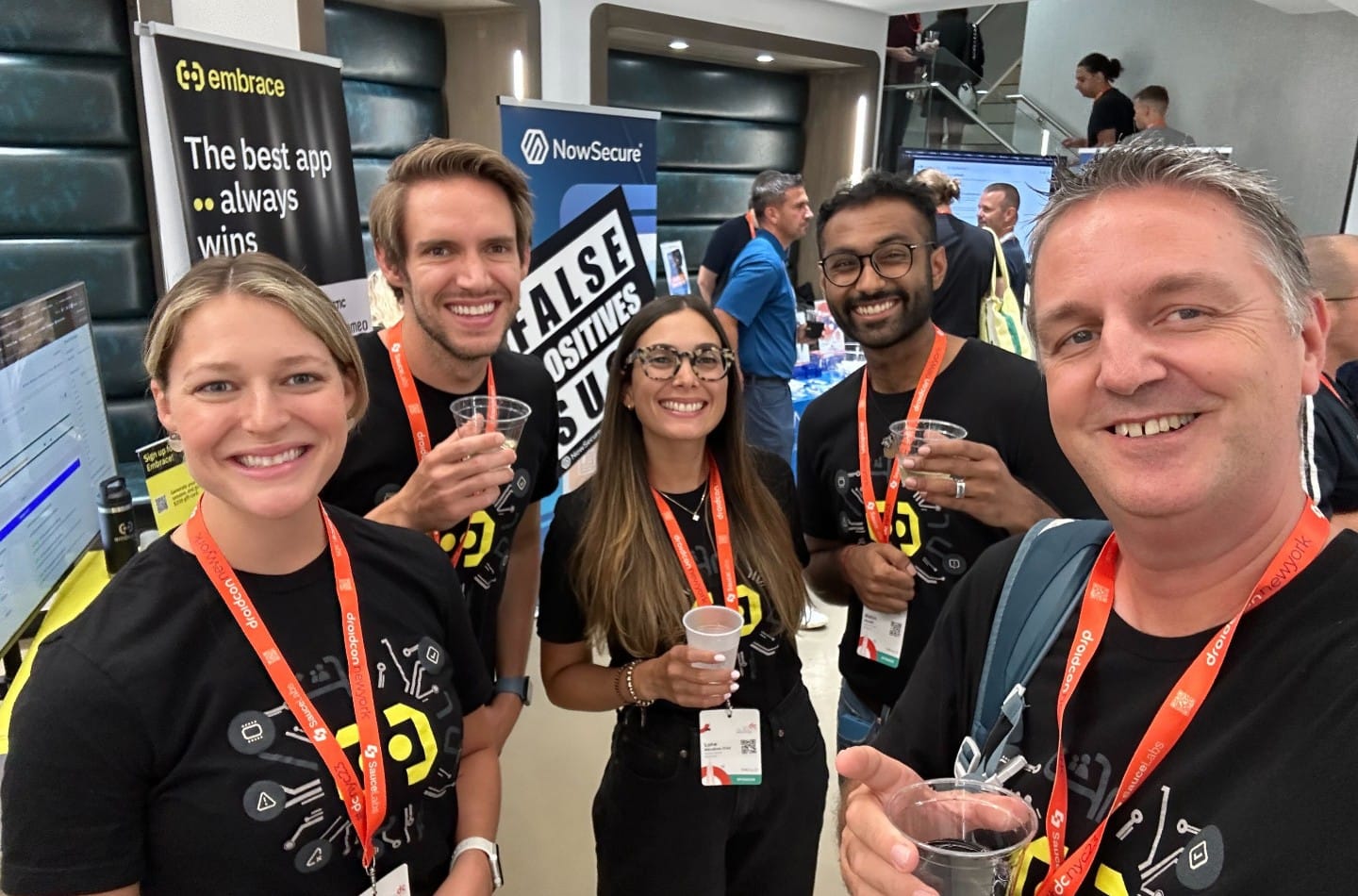 For this event, we took a different approach to our booth. We wanted to really highlight our new brand and ensure every aspect of our booth was filled with fun and energy. One way the booth attendees got to experience this is with our table of dancing Embrace robots.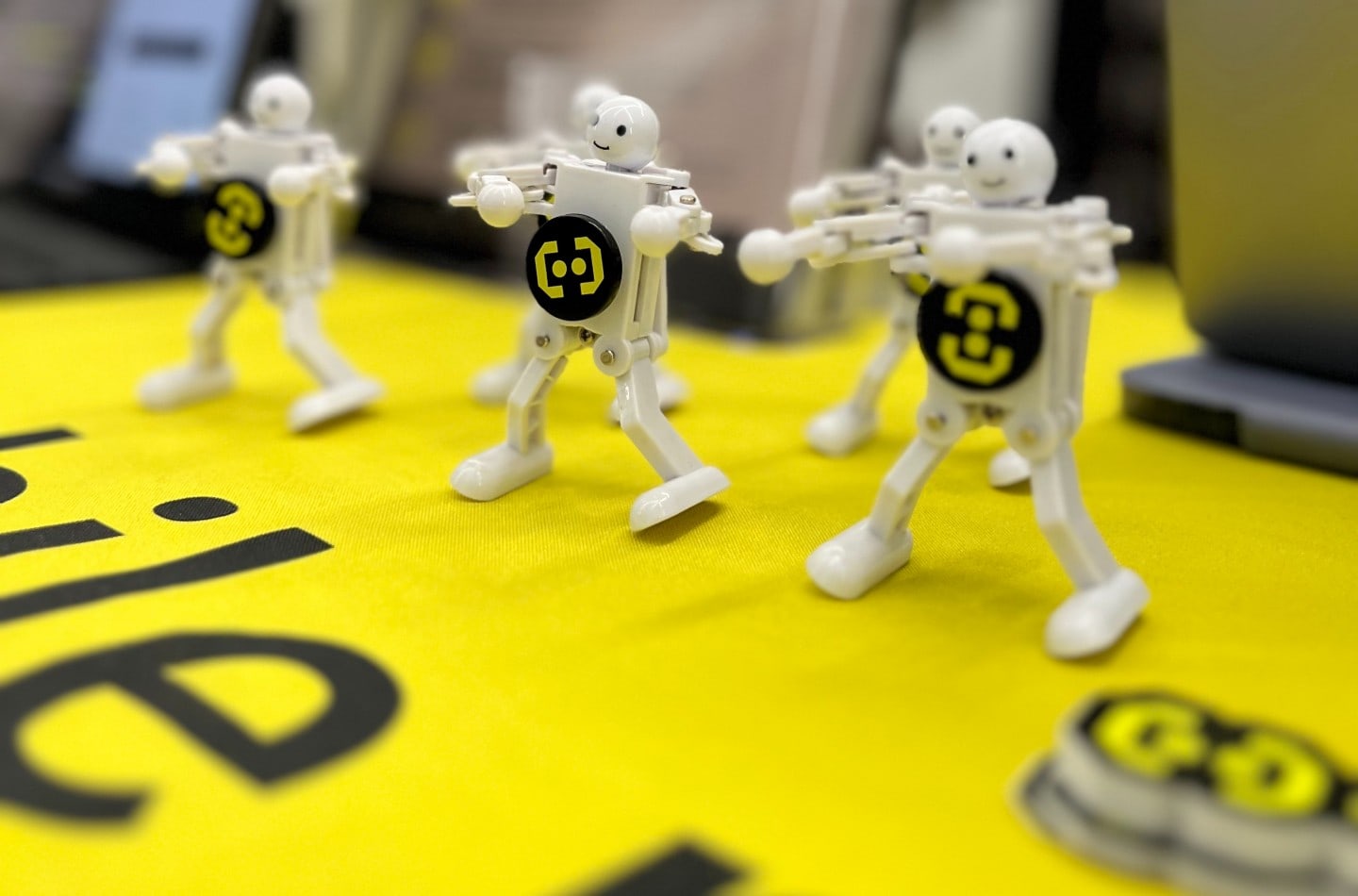 But the biggest way was how we delivered energy straight into the bloodstream of conference attendees with our coffee cart. Big props to Chief of Staff, Megan Winter, for coming up with this awesome idea.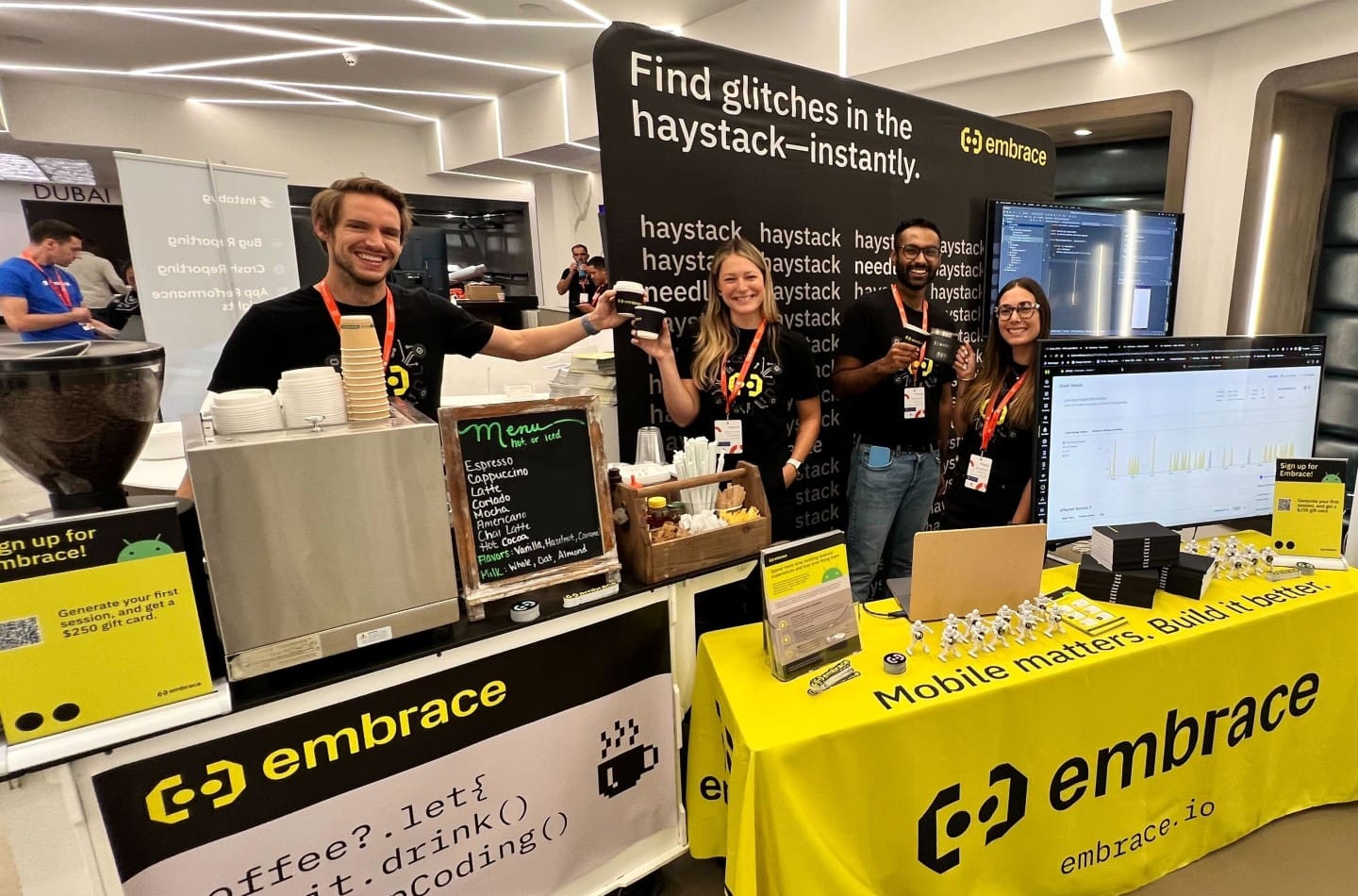 The coffee cart was a major hit and one of the most talked about features of our booth.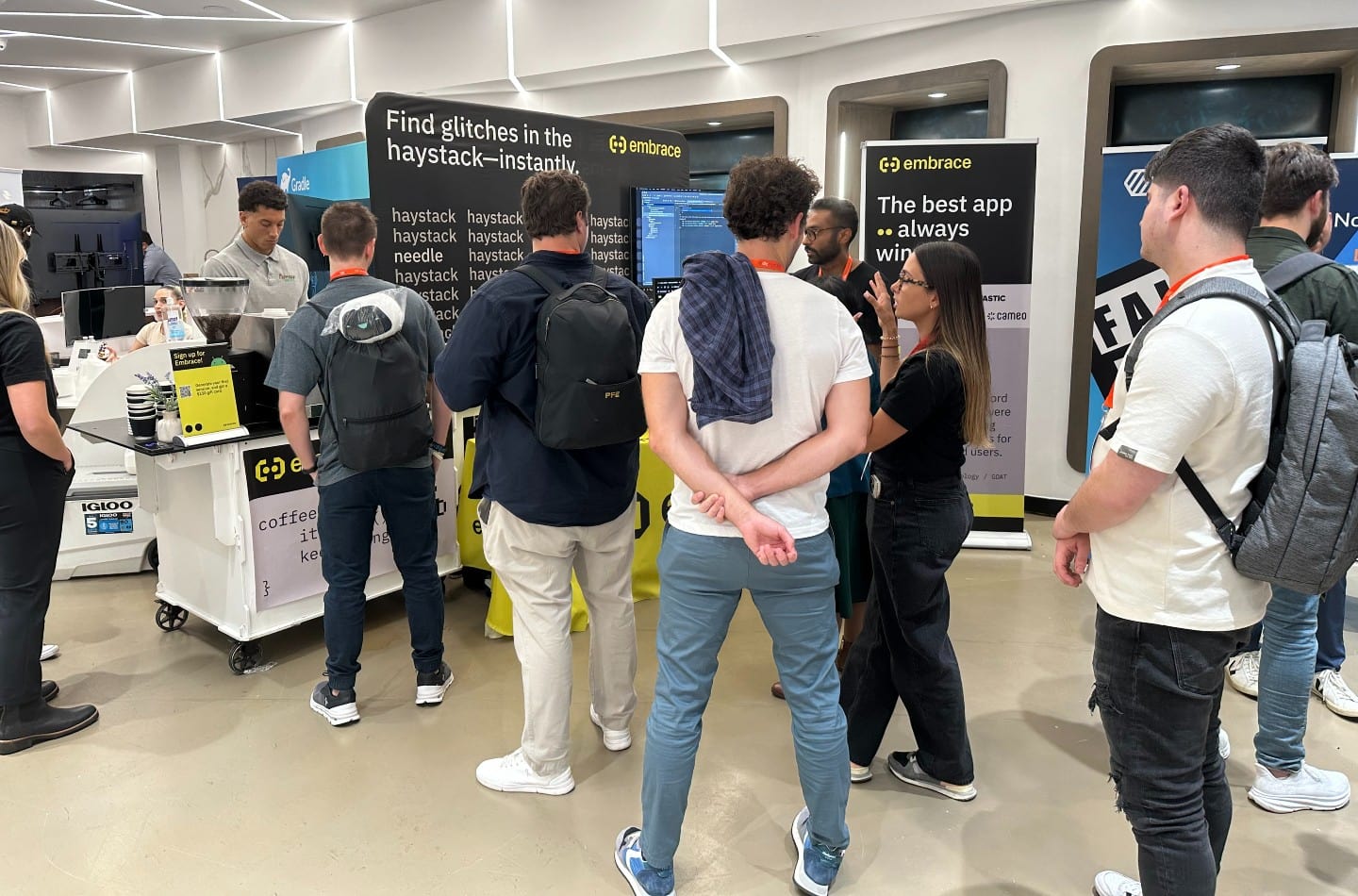 Attendees could choose from an array of options, including espresso, cappuccino, latte, cortado, mocha, americano, chai latte, or even a rich hot cocoa, with flavors ranging from vanilla, hazelnut, to caramel, and the choice of whole, oat, or almond milk to suit their preferences.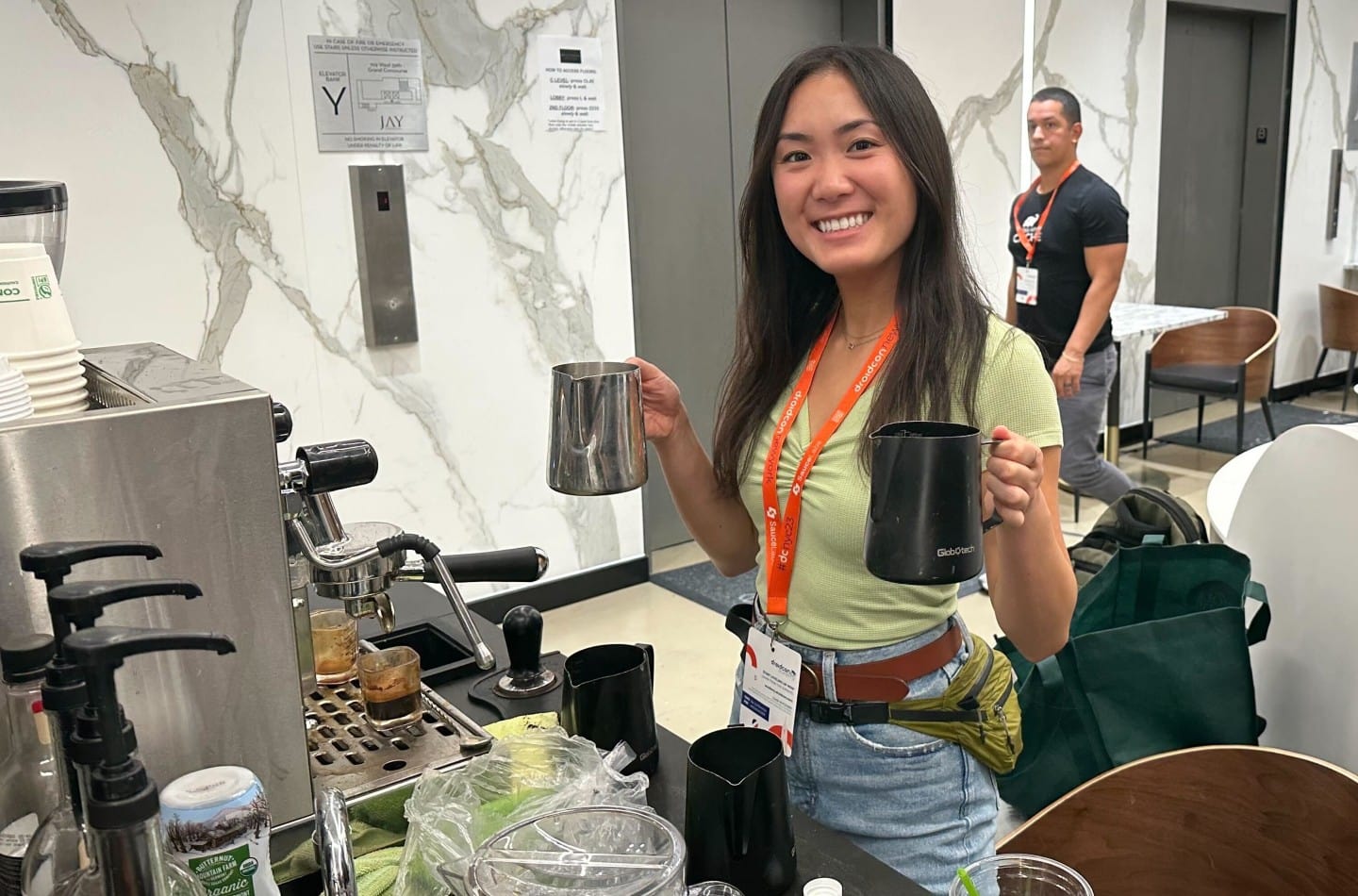 Basically, however you take your caffeine, we were able to accommodate. However, some people might have gone a little overboard on the free coffee. Looking at you, Collin Anderson.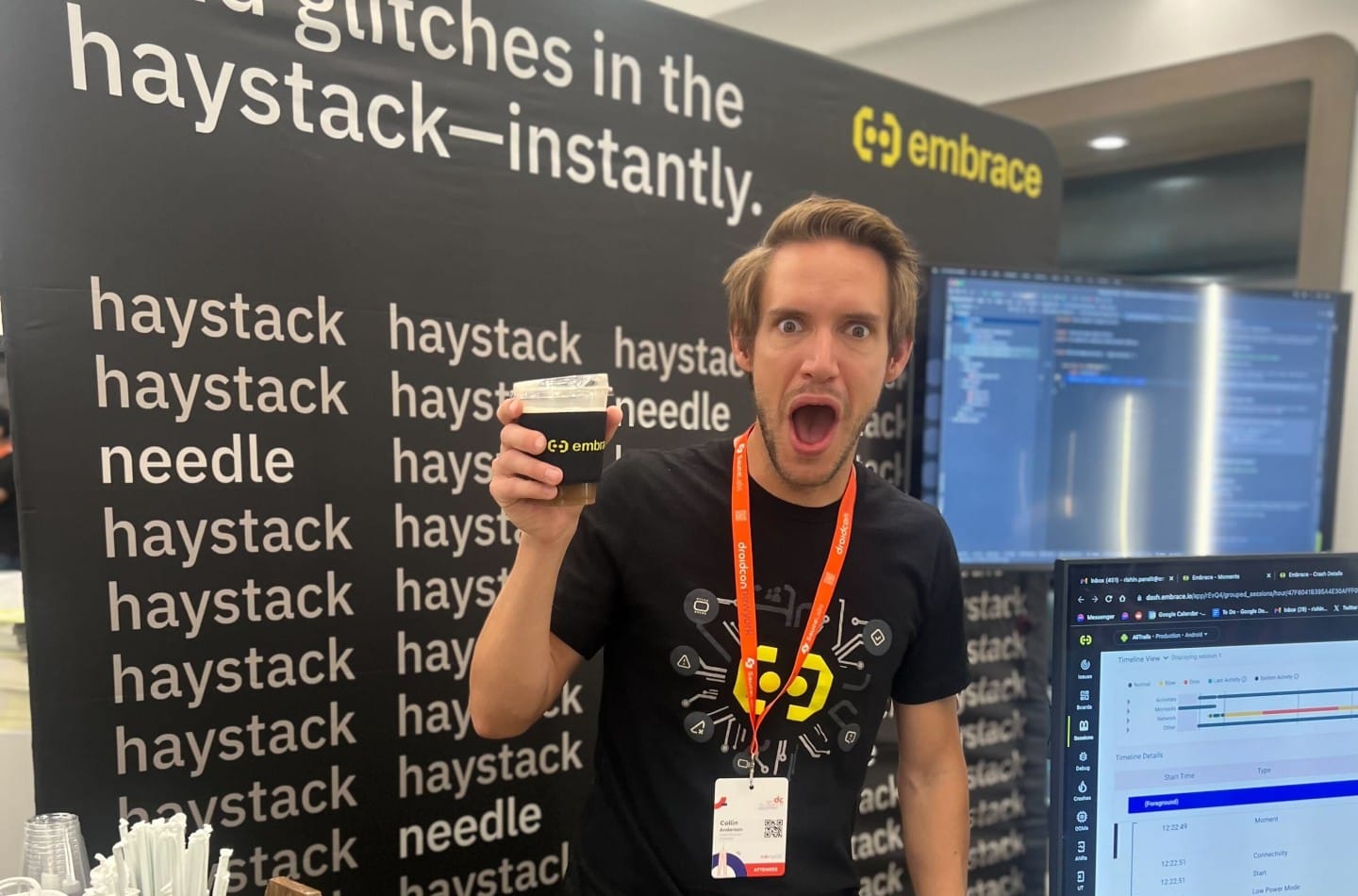 Our coffee cart provided a much-needed boost during the packed schedule of talks and networking. Speaking of which…
Networking and innovation
Apart from the talks and exhibitions, droidcon New York 2023 provided ample opportunities for networking and collaboration. Developers, industry experts, and tech enthusiasts came together to exchange ideas and forge connections.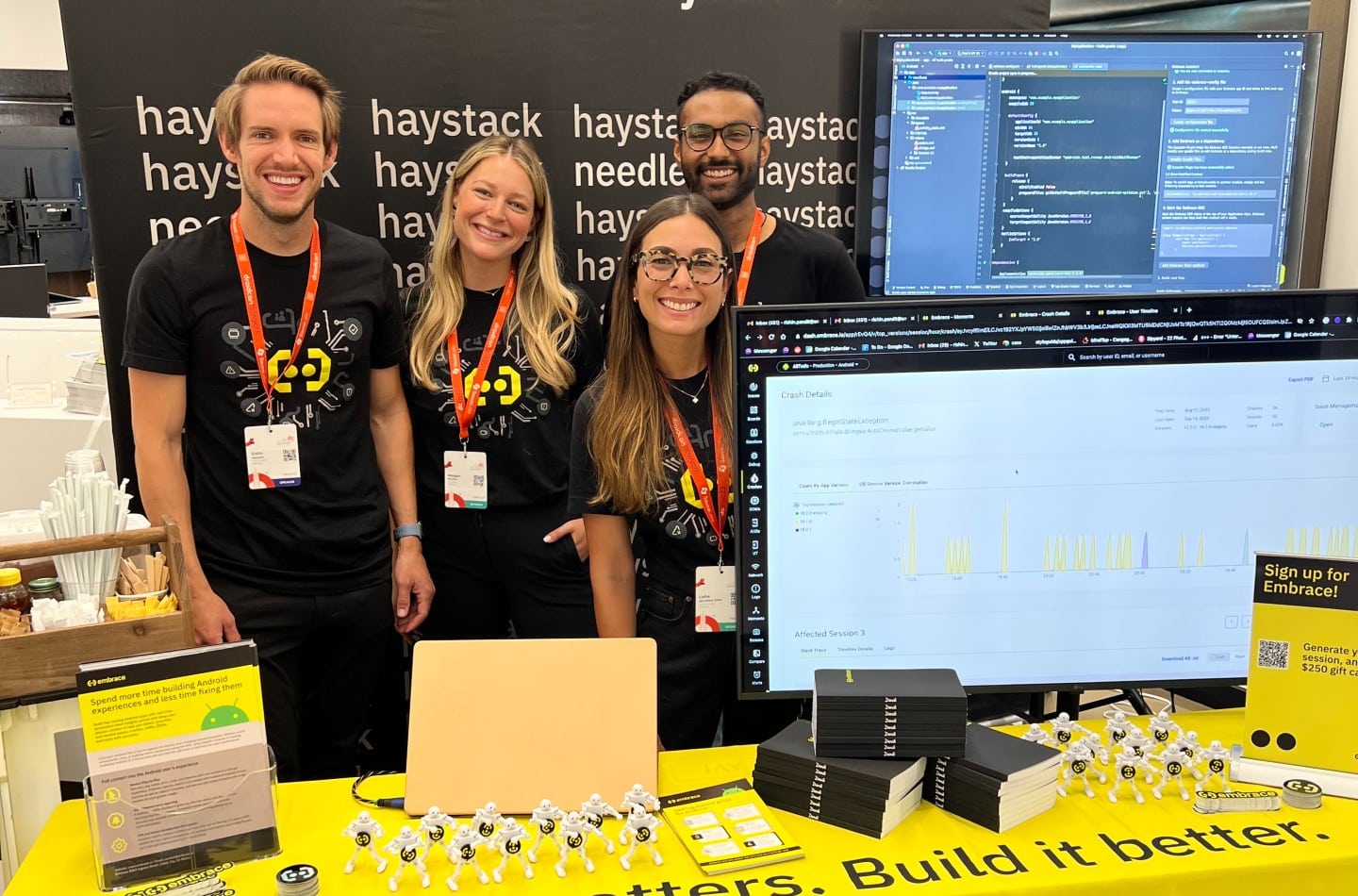 Over at our booth, we spoke about all things Android and Embrace. Many attendees, including those from larger organizations, spoke to the increasing need for tooling that helps mobile teams solve the technical issues that impact user experiences. It was awesome to share how Embrace can help, and we provided deep dives into how our product and expertise can help.
We were able to speak to a variety of attendees about their experiences like Daniil Pastukhou, a Tech Lead from Bouvet, Norway:
"This is my second time at this conference. Usually they say about conferences that the main thing is meeting people at it. But in my case, for the second time in a row, in addition to networking, I am inspired by the high level of technical presentations. Such conferences attract me so much that I am ready to travel to another hemisphere for it."
The photo below showcases some of the socializing we did. In it, our CTO, Fredric Newberg, shares how Embrace can help improve Android app performance. That, or he was probably deep in conversation about ANRs. He gets that a lot, and we'll get more into that in a bit.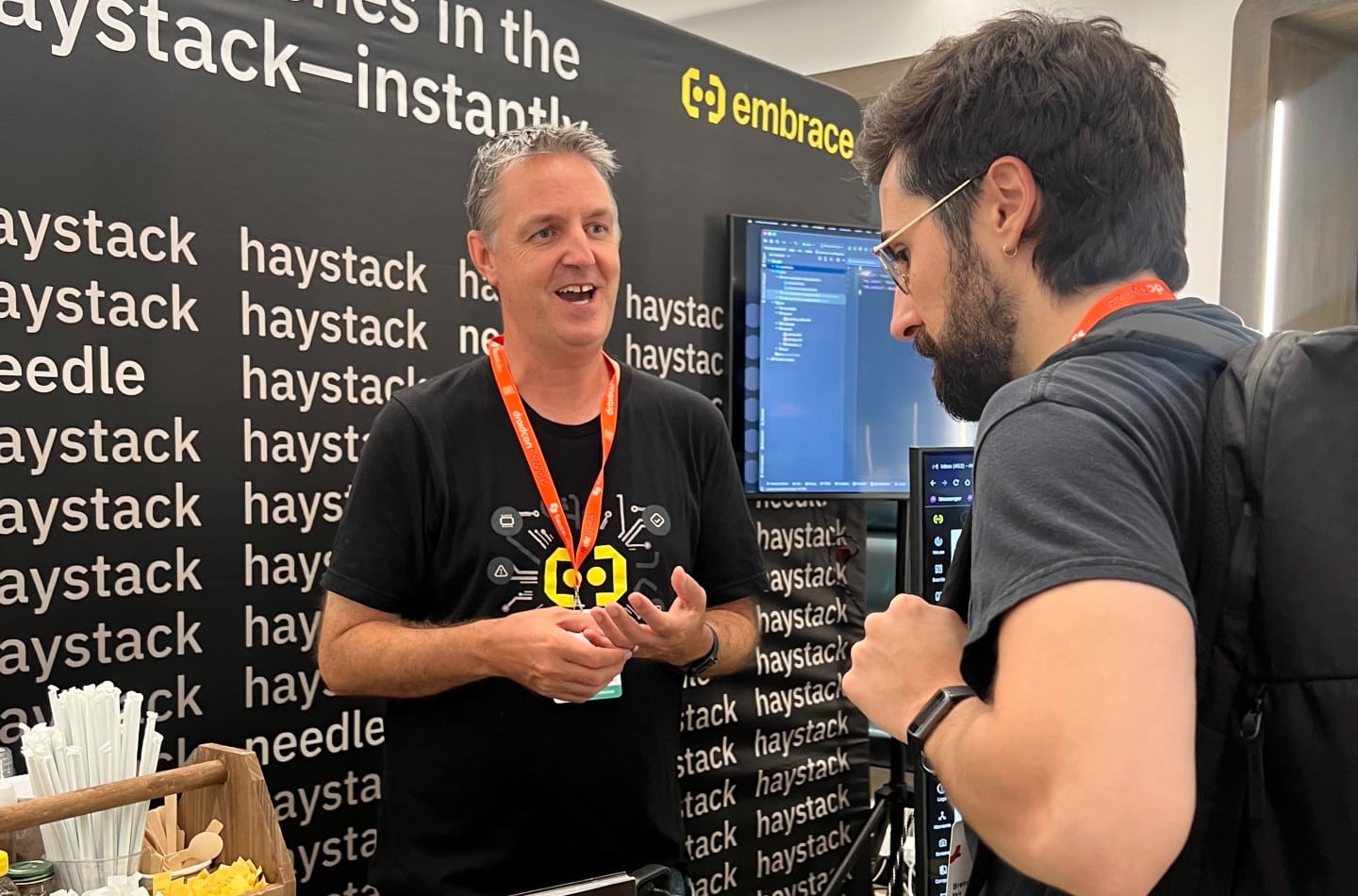 Overall, attendees loved our interactive demonstrations, asking follow up questions on Fredric's talk, and a few even commended us on our rebrand! The enthusiasm in the air spoke volumes about the innovation and potential at the event.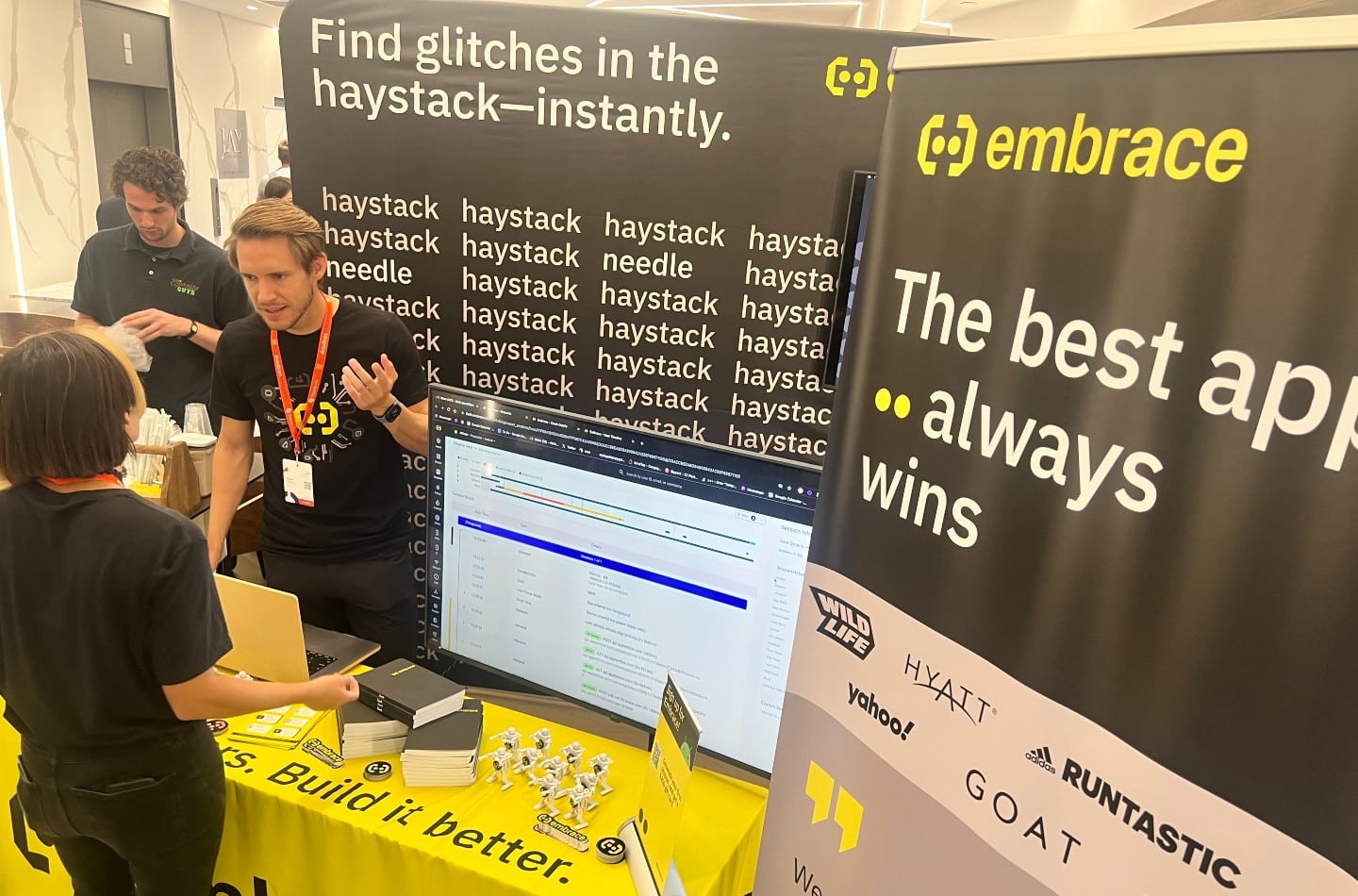 Talks we attended
We weren't just there to speak with developers and teach about our product, we were also there to learn! This year's droidcon kicked off with an amazing keynote from Adam McNeilly. His presentation was engaging, comprehensive, and reminded us of the stellar ecosystem that exists around Android. Invigorated after this kickoff, we attended a few great talks.
Measuring and improving performance: Insights from one of Cash App's main screens
One of the first talks we attended was Colin Marsch's talk. Marsch is an Android engineer at Cash App, and he covered cutting-edge advancements in Android development, emphasizing the importance of Kotlin and Jetpack Compose.
His insights on UI/UX design were great because they showcased practical examples and best practices that made his knowledge tangible. Marsch's engaging presentation style and deep expertise made it a standout session, leaving us inspired to apply his techniques in our own projects.
Major savings with app startup shaving
We also enjoyed John Li's talk. Li is an Android engineer at Nextdoor, and he dove into the realm of mobile app security, shedding light on critical measures for safeguarding Android apps.
During the talk, he covered topics like secure coding practices, encryption, and authentication protocols. What stood out most was how comprehensive Li's knowledge was and his ability to clearly explain complex security concepts in a way that was accessible to all attendees.
Adopting Jetpack Compose @ scale
Finally, we attended Vinay Gaba's talk. Gaba is the Tech Lead at Airbnb, and his talk centered around Jetpack Compose. Vinay began by acknowledging the widespread adoption of Jetpack Compose in recent years.
He emphasized that while many apps have integrated this library into their Android development, the approaches taken by each team have varied significantly. Vinay highlighted the nuances involved in migrating to such a transformative technology, especially when implementing it on a large scale.
Fredric's talk on solving ANRs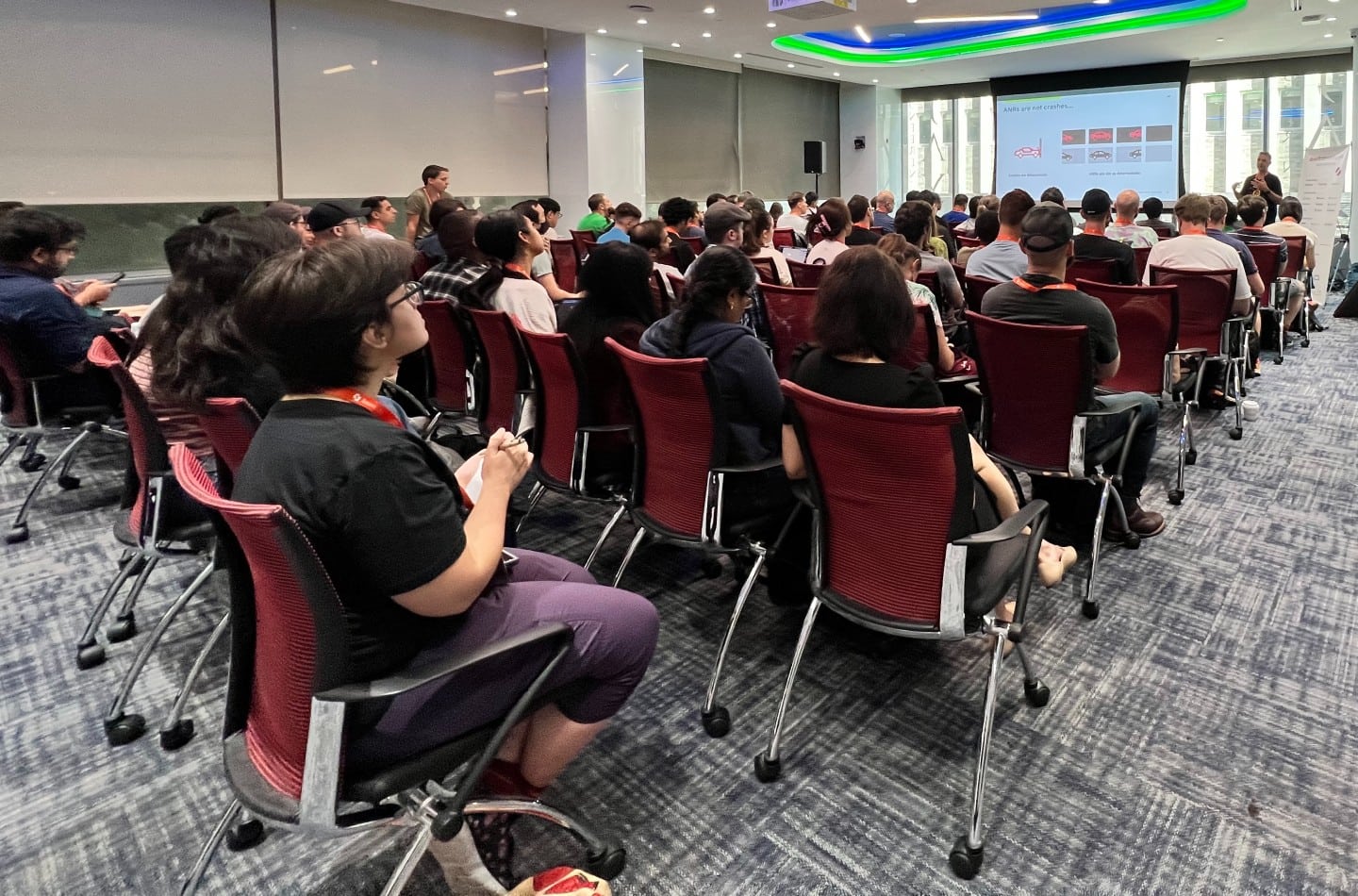 One of the standout moments from our time at the event was our CTO Fredric Newberg's talk. His talk, "Why ANRs are Hard to Solve and What You Can Do to Make it Easier", focused on why ANRs continue to be one of the toughest mobile app issues to address. The energy from attendees was incredible, and it was awesome to see Fredric present to a standing room only crowd!
Fredric dove into the intricacies of ANR issues, shedding light on the challenges faced by developers in solving them quickly and effectively. Topics included when ANRs occur, their impact on user experience, how this can affect your Google Play Store ranking, and more. The talk also emphasized the importance of understanding ANR patterns and making informed decisions when problem solving. That way, you are not forced to manually sift through individual stack traces and can instead approach ANRs with better visibility into root causes and business impact.
Overall, Fredric's comprehensive insights and practical solutions resonated with the audience and sparked great interest in Fredric's expertise and Embrace after the talk ended.
Looking forward to the next droidcon
As the curtains draw on this year's droidcon New York, we are already looking forward to the next one – London, here we come! If you're headed there as well, definitely stop by and say hello. We'd love to share our expertise on delivering the best Android app experiences possible.
If you'd like to learn more about ANRs, our CTO Fredric is presenting an upcoming webinar about ANRs in Unity mobile games that you can check out here: "How to solve Unity ANRs and boost Play Store ranking".
Looking to rank higher in the Play Store?
If so, you'll need to decrease ANRs. Find out how in a webinar from our CTO, Fredric Newberg.
Register now