Building apps that are smooth, fast, and all-around delightful for end users in today's mobile environment is certainly no easy feat. Engineers have to contend with a varied device landscape, constant OS updates, and new advancements in tech, like AI and 5G. What's more, they have to meet the performance demands of mobile users, which are higher than ever before.  
These are just a few of the challenges in mobile app development that we explored in a multi-part study and detailed in our first annual State of Mobile Experience report.
As part of this study, we surveyed mobile engineers from our customer community to better understand their concerns, frustrations, and perspectives on app development today. Their responses were eye-opening at times. Taking a closer look at those responses can help guide organizations as they better support their mobile teams in building amazing experiences for end users. Read on for some key insights. 
1. Monitoring app performance is a top concern for devs, both now and in the future
When asked about the challenges they're facing in app development today, engineers put monitoring app performance on top of the list. Not only that, but it's also what they anticipate as being their biggest challenge in the next five years. This perceived importance of performance monitoring aligns well with what we learned from app users in the other part of our study. Users' expectations for mobile apps are incredibly high. They're not willing to wait around for slow apps – and they certainly have very little tolerance for crashy ones. Therefore, it makes sense that engineers are prioritizing performance monitoring to keep their end users satisfied and, ultimately, coming back for more sessions.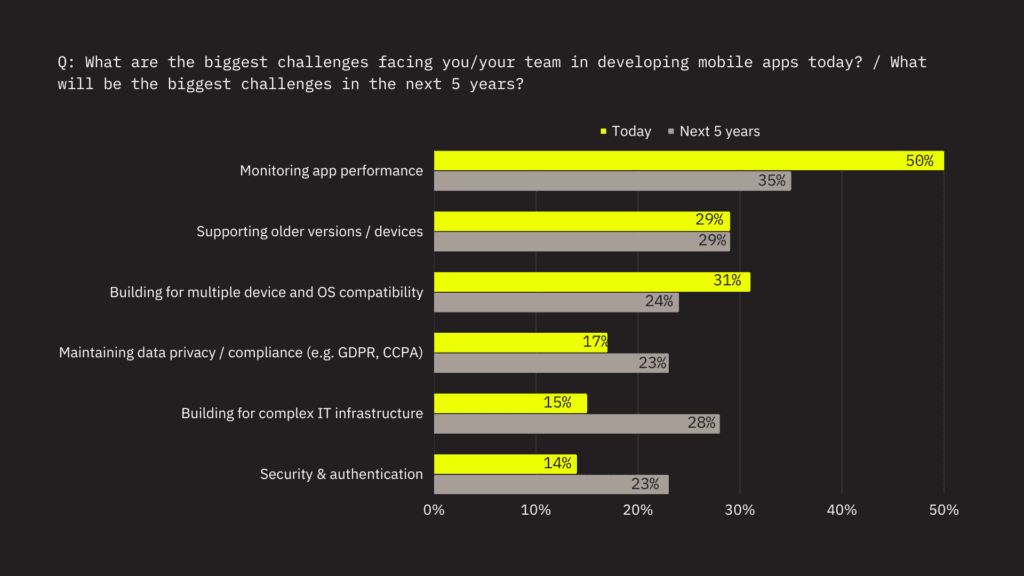 2. Aside from monitoring performance, today's challenges and tomorrow's challenges look different
For mobile engineers, the challenges of developing in the next five years will not be the same as they are today. A major reason for this is the growing complexity of mobile technology and IT infrastructure, especially as the microservices model becomes the engineering standard. Engineers recognize this as something to contend with. While only 15% of engineers from our survey named building for complex IT infrastructure a key challenge for them today, 28% said it would be a concern in the next five years. This was a particularly strong view among iOS devs  (31%) vs. Android (19%).  
3. When it comes to performance issues, engineers' priorities and uses' priorities don't always align
Perhaps one of our most surprising findings from this research came from comparing opinions of app users vs. app builders. One such case is the difference in which performance issues users vs. engineers choose to focus on.
We asked mobile engineers what they're most concerned about when it comes to their app's performance. The number one issue they mentioned was crashes. This is unsurprising, as crashes are near-intolerable for end users – 60% said they would delete an app from their phone entirely if it crashes a few times. However, user vs. builder perspectives diverged when it came to other common issues. For engineers, slow startup was considered the second most-critical issue. For users, however, this was among the least frustrating problems. There's also some misalignment on frozen screens and unresponsive elements, which frustrate users greatly, but rank fairly low in terms of engineering priorities. 
This discrepancy points to something we often observe in the solutions space: the focus on improving app performance is often guided by industry or app store standards rather than user feedback. For example, industry best-practice dictates that an app's startup should take no more than two seconds; understandably, engineers want to focus on keeping that low. However, if users are more tolerant of slow startup vs. unresponsive buttons, it's worth taking another look at performance priorities and seeing whether end users are satisfied with their overall experience.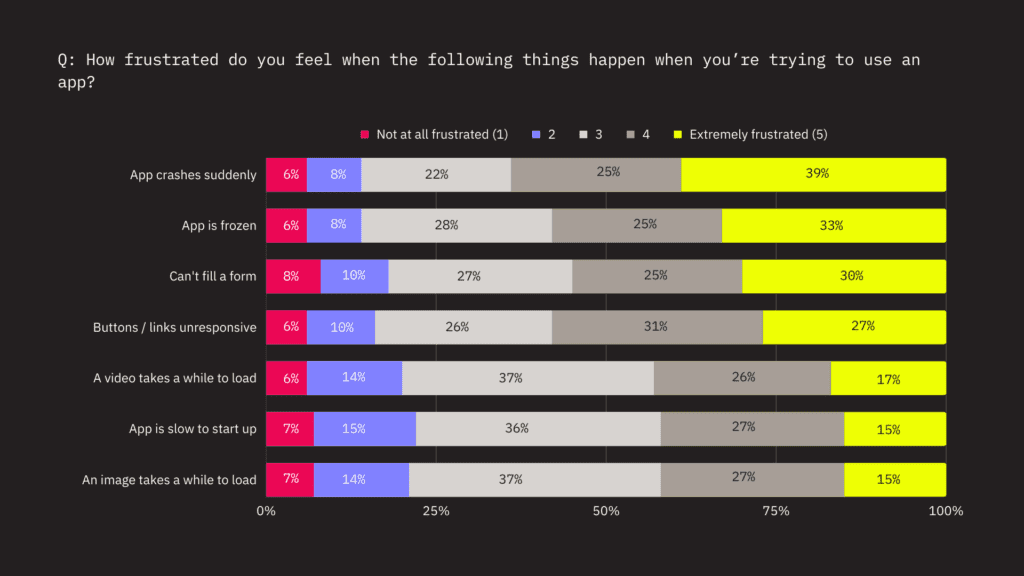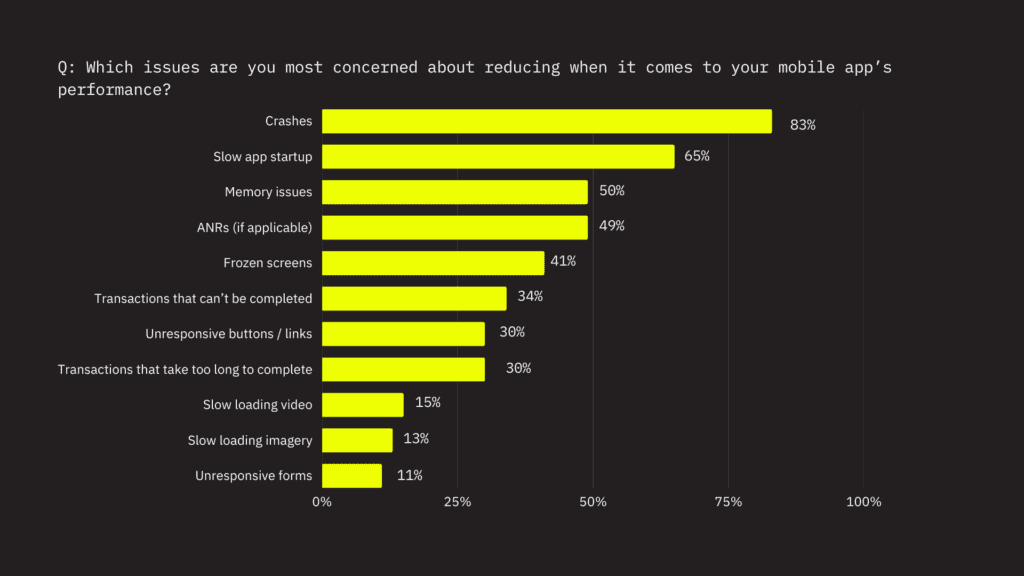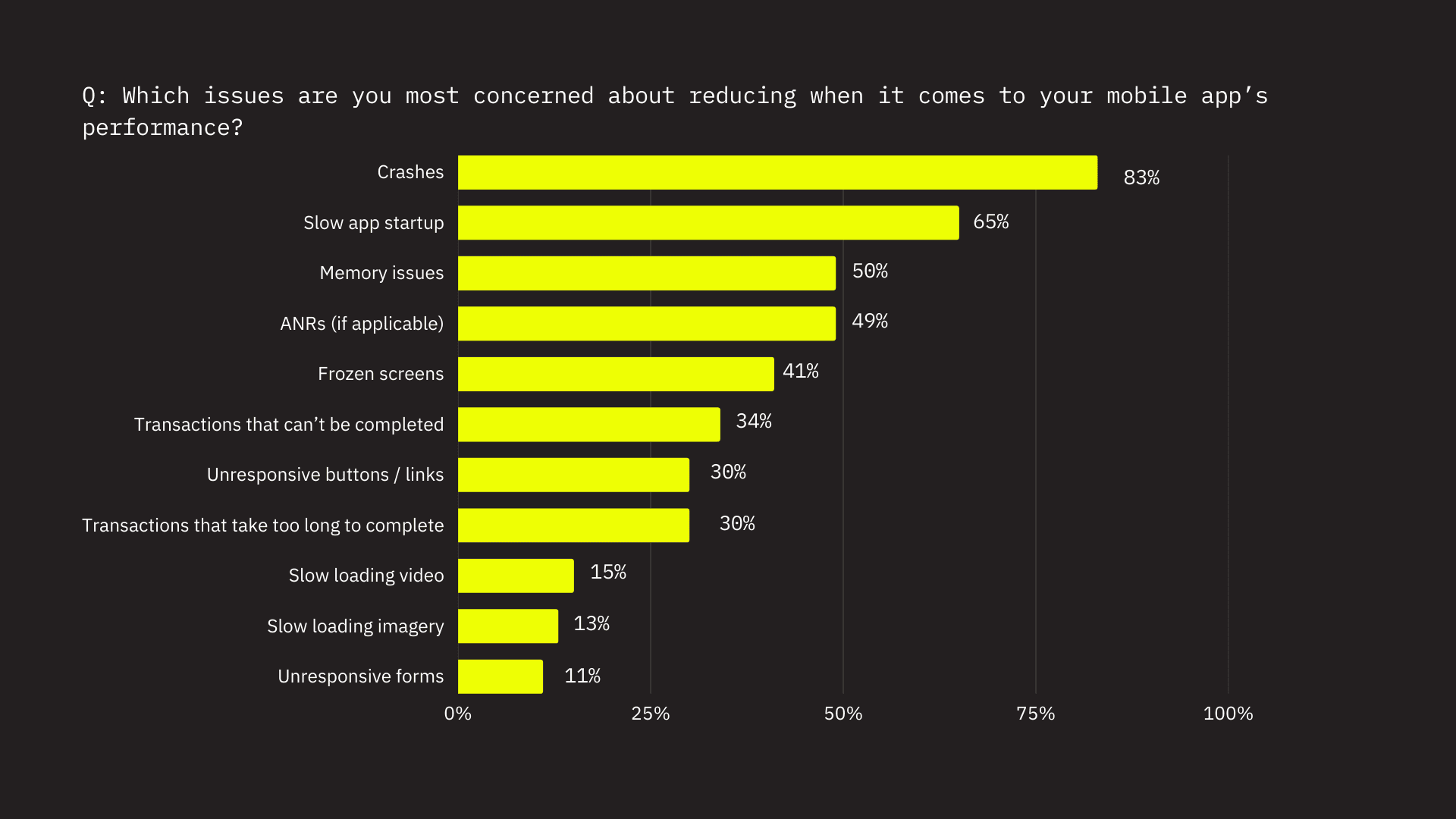 As these insights suggest, engineers must contend with both the technical issues of building, plus the challenges of building what users want. Understanding these challenges is crucial for organizations to support their mobile teams. It can help point to where better tools, feedback mechanisms, and other ways of working can help engineers excel in their work. And supporting mobile engineers is ultimately how orgs can enable them to do what they do best: build amazing technology for people to enjoy, time and again.
For more info on this, plus insight into other key industry trends, check out the full State of Mobile Experience 2023 report.
Deliver incredible mobile experiences with Embrace.
Get started today with 1 million free user sessions.
Get started free