We're excited to be at ObservabilityCon this year, on Tuesday, Nov. 14 and Wednesday, Nov. 15 in London. Stop by our booth and say hello if you'll be there, as we'd love to connect and talk about how you can deliver the best mobile experiences with Embrace and Grafana.
Why we are headed to ObservabilityCon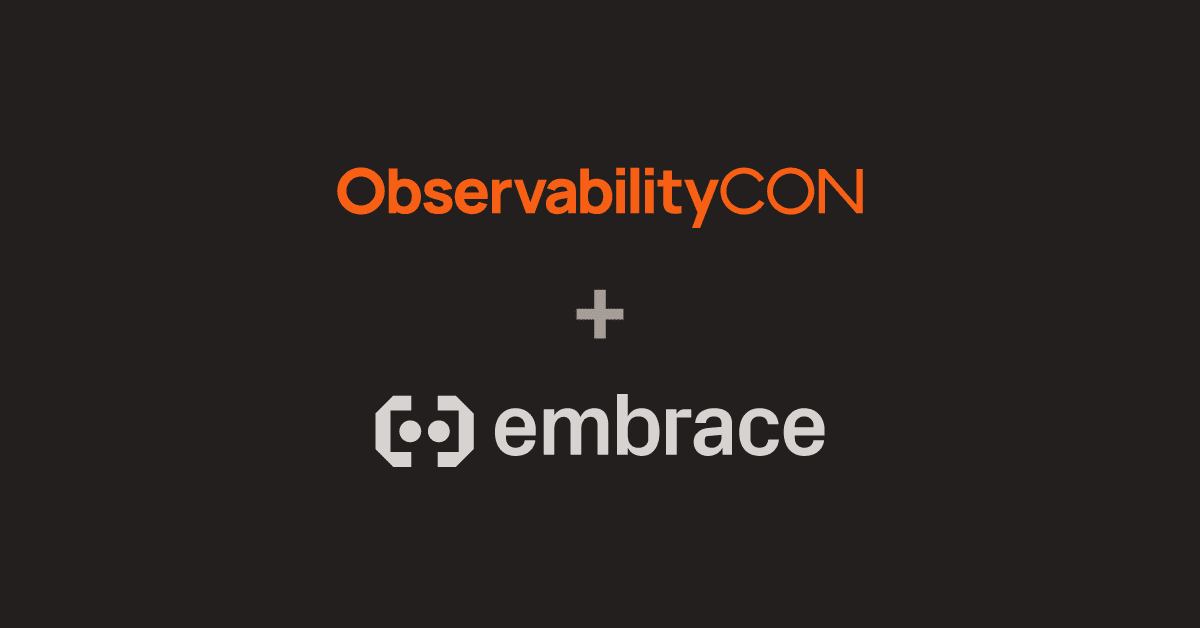 Embrace is a platform that's empowering mobile engineers to build and deliver amazing user experiences by helping them proactively discover emerging problems and rapidly resolve them with full play-by-plays of each user's app engagement.
What does this have to do with Grafana? By combining the best mobile performance insights with your existing Grafana observability suite, you can achieve full-stack observability across backend, web, and mobile in a single experience. 
Our partnership allows engineers to focus more on making experiences better and building new ones, rather than the toil of trying to figure out what issues they should focus on or how to resolve them.
If you're a user of both Embrace and Grafana, you can now set up our simple data forwarding integration to push metrics and traces directly to Grafana Cloud. Previously, our integration was limited to Grafana OSS, and worked via the Embrace API plug-in.
Both Grafana Cloud and Grafana OSS customers commonly use our plug-in, and the list of reasons to use our new Grafana Cloud integration are only continuing to grow. We'll highlight a few key reasons at ObservabilityCon, including:
Proactive data:

You no longer need to write queries and run them against data stored in Embrace. Embrace pushes the metrics you need directly to Grafana Cloud at daily, hourly, or 5-minute intervals so they can be used for on-call or alert evaluation purposes, or in combination with other signals from your infrastructure and services.

Better data access:

Once Embrace pushes the data, it exists within Grafana Cloud, providing you with enhanced accessibility, management, and flexibility in its use.

End-to-end visibility:

This is a notable improvement for enterprise users. With Embrace data in Grafana Cloud, you can analyze your mobile data alongside any backend-monitoring data sent to Grafana. This means having full visibility into your app's health and performance across the entire stack. This data provides the unparalleled ability to troubleshoot issues quickly and effectively, while still giving your mobile engineering team the tools they need to rapidly discover and resolve problems — tools that most full-stack observability providers don't give you.
The Embrace and Grafana Cloud integration works by pushing metrics to Grafana Cloud Metrics and traces to Grafana Cloud Traces.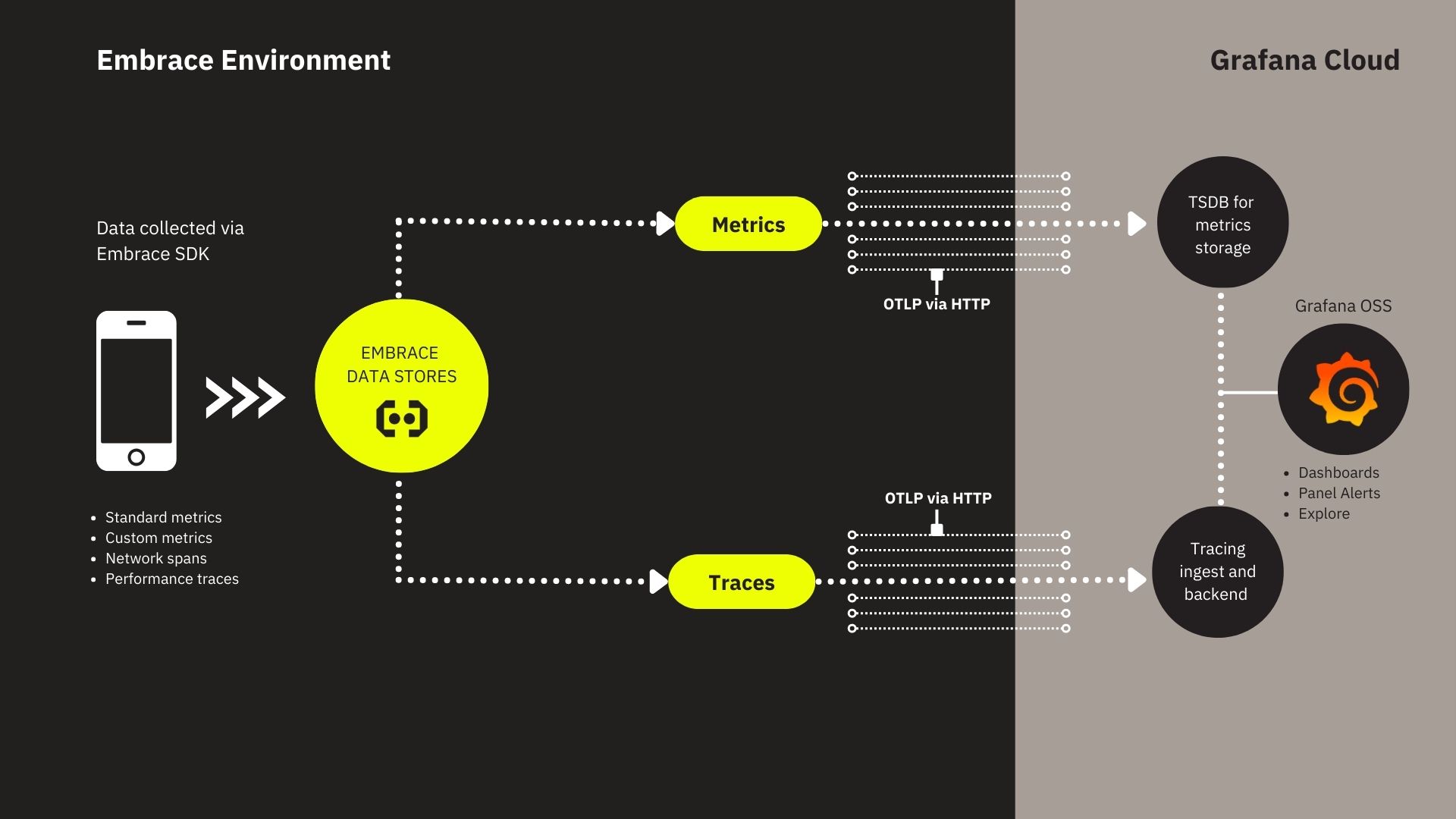 Connect with us at ObservabilityCon
Make sure you stop by our booth at the event, where you can see a demo showcasing the Embrace product, the Grafana integration, and how they can pair together to enhance observability while building and scaling your mobile app.
Stick around for our talk too! We're excited to speak with engineers and others in the industry about our partnership with Grafana. We'll have several of our talented team members at the event, including our Head of Product, Andrew Tunall, who will facilitate a 30-minute roundtable with Clement Duveau, a Sales Engineer from Grafana, at the event. 
Join the talk for:
A look at the challenges of mobile engineering teams, as well as the DevOps and SRE teams that support them.

A discussion of how end-to-end visibility can make troubleshooting easier and more efficient for both mobile engineering and backend service teams.

An overview of the Embrace and Grafana integration and a discussion of how engineers can solve issues with their apps health and performance.

An open forum for discussing common challenges of attendees and the opportunity for Embrace and Grafana to help with them.
We're looking forward to meeting you. Make sure you catch us there!
Not attending ObservabilityCon?
Deliver incredible mobile experiences with Embrace.
Get started today with 1 million free user sessions.
Get started free